Harvest vs Clockk: 2023 comparison
Clockk • July 11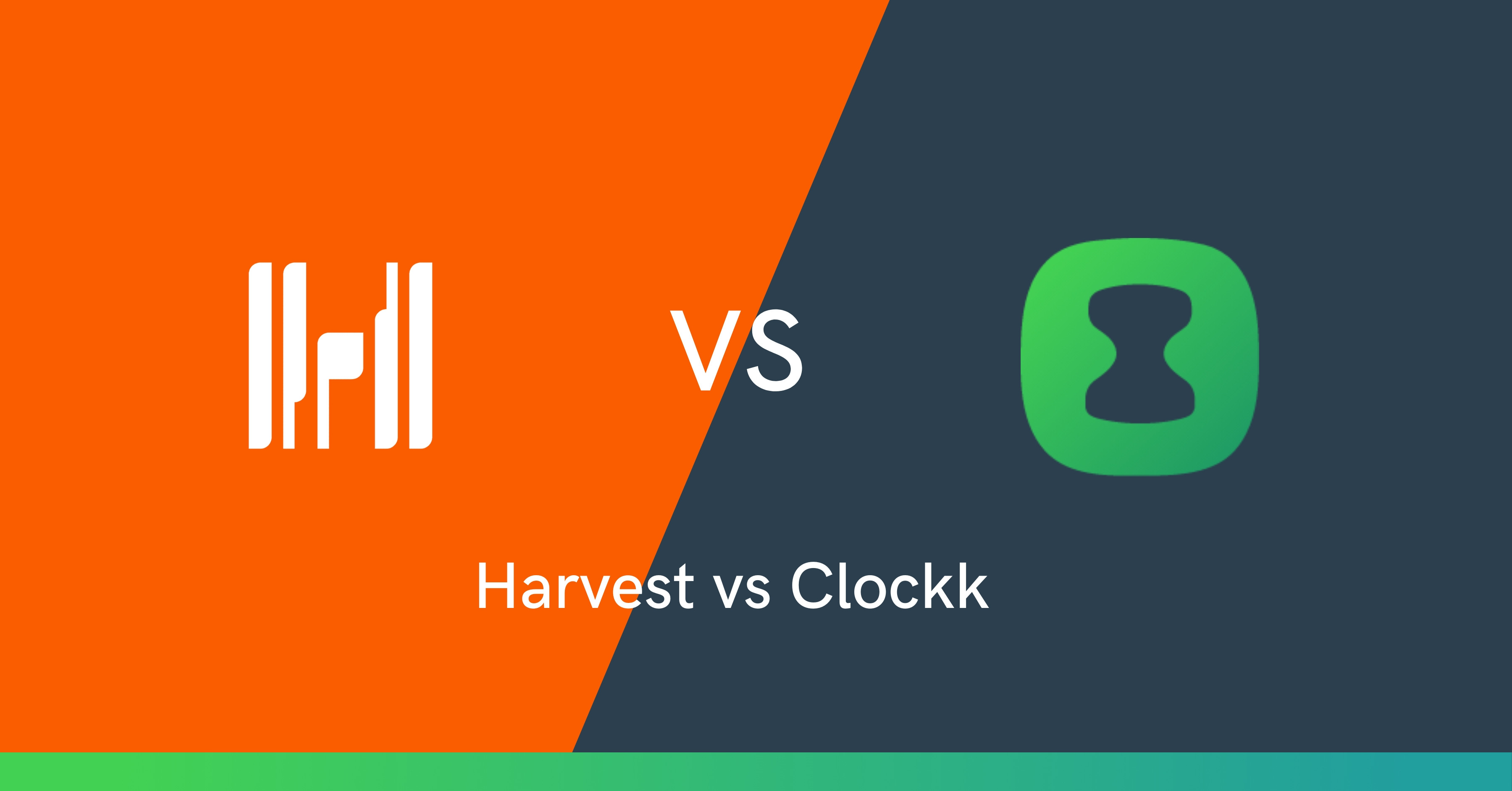 Harvest and Clockk are both time tracking apps for freelancers, agencies and consultancies. They are used to track how much time is spent on projects.
The main difference between the two is how they track time.
With Harvest, you track your time manually by starting and stopping a timer and then assigning that time to a project/client.
Clockk runs in the background tracking your time automatically. Overtime Clockk learns which project/client your work gets assigned to.
Pricing
Harvest has two available plans.
Free - 1 seat, two projects
Pro - $10.80/month on annual subscription - Unlimited seats, unlimited projects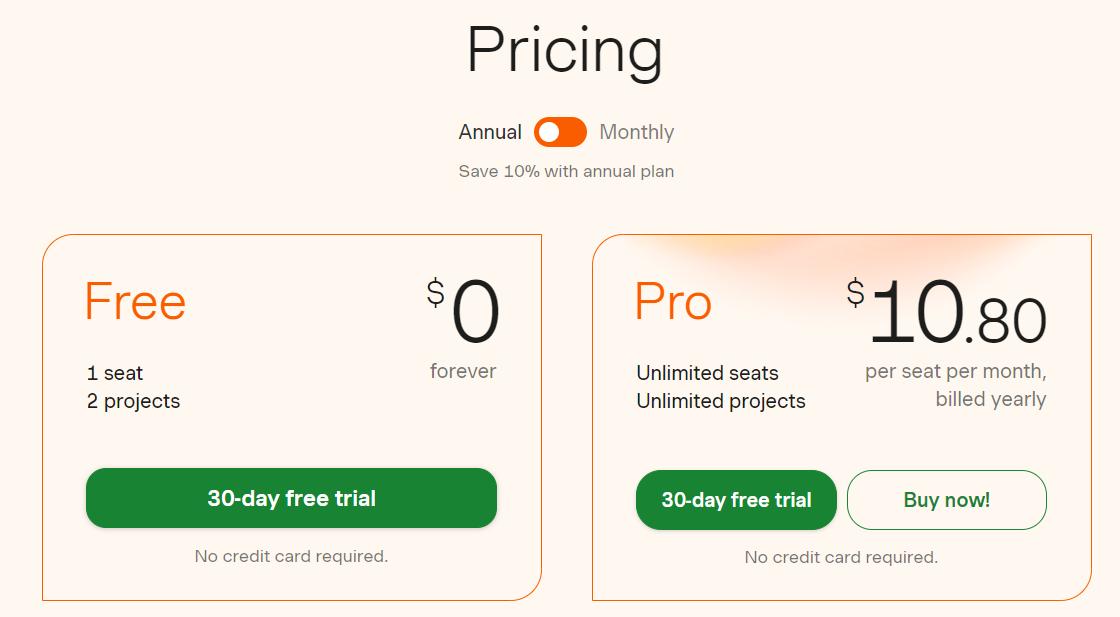 Clockk has a free plan and a paid plan. The paid plan is $15/month on annual subscription. Clockk offers a two week trial period on the paid plan. When your trial period ends, if you don't upgrade, you will automatically be put on the free plan.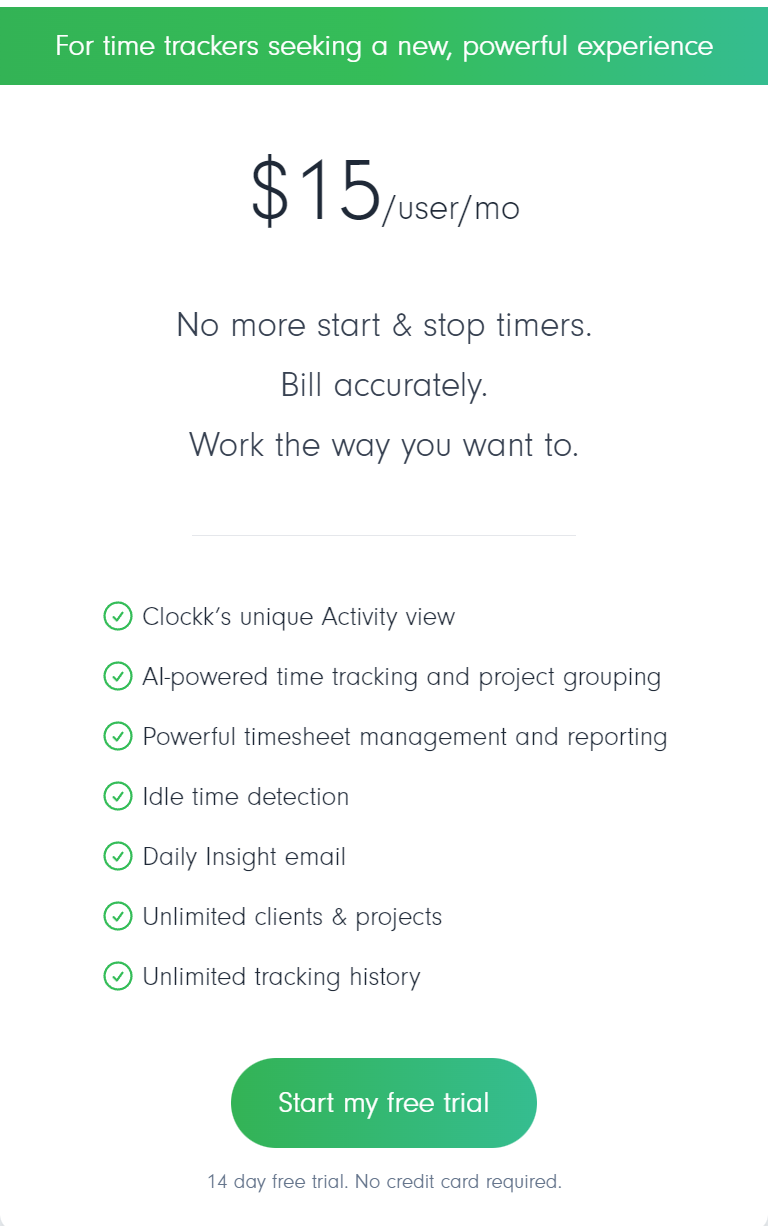 Harvest vs Clockk Features
Time Tracking
Harvest is a manual time tracking app. Users are required to actively record their time, by starting and stopping a timer, while they work and switch between tasks.
To start tracking time in Harvest, click the green + button on the left hand side of the window that says track time. Then choose the project that it's for and the timer will start.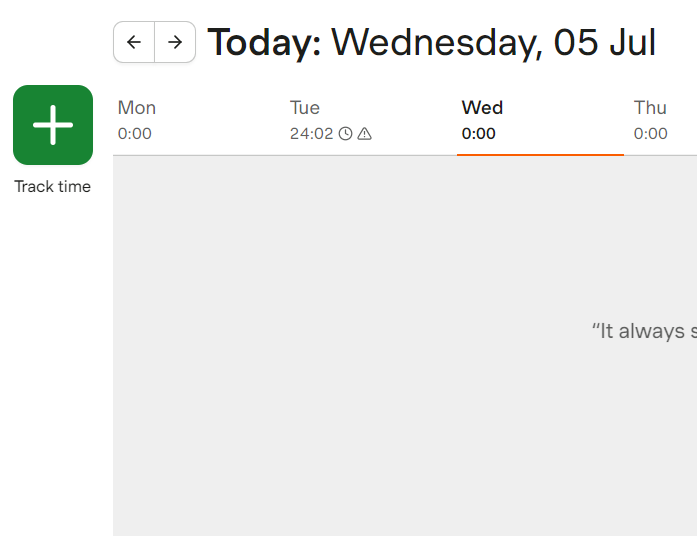 When you are done tracking time, hit the stop button on the right hand side of the window. If you want to track time again for the same project you can hit start on that time entry. You can also edit and add notes to your time entries.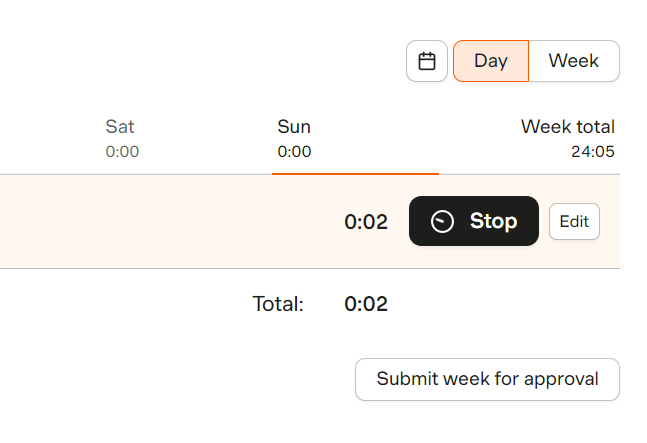 The upside of manual time tracking is that it is simple to understand and easy to use. The biggest downside of manual time tracking is forgetting to start and stop the timer. If you left your timer running, Harvest will send you an email to notify you. There will also be a notification in the app telling you to go back and edit your time entry.
Clockk is an AI powered (automatic) time tracking app. Instead of timers, Clockk works in the background, automatically recording the time you spend using different apps and websites. You can log into Clockk at your convenience to make adjustments to your tracked data and assign your work to specific clients and projects.
Everything Clockk tracks is private for your eyes only.
The upsides of automatic time tracking are:
No start/stop timers to constantly monitor
Focus on delivering top-notch survive to your clients instead of tracking your hours
Make more money by capturing all your billable hours
Confidence that your billing your clients accurately
Insights into your work patterns and productivity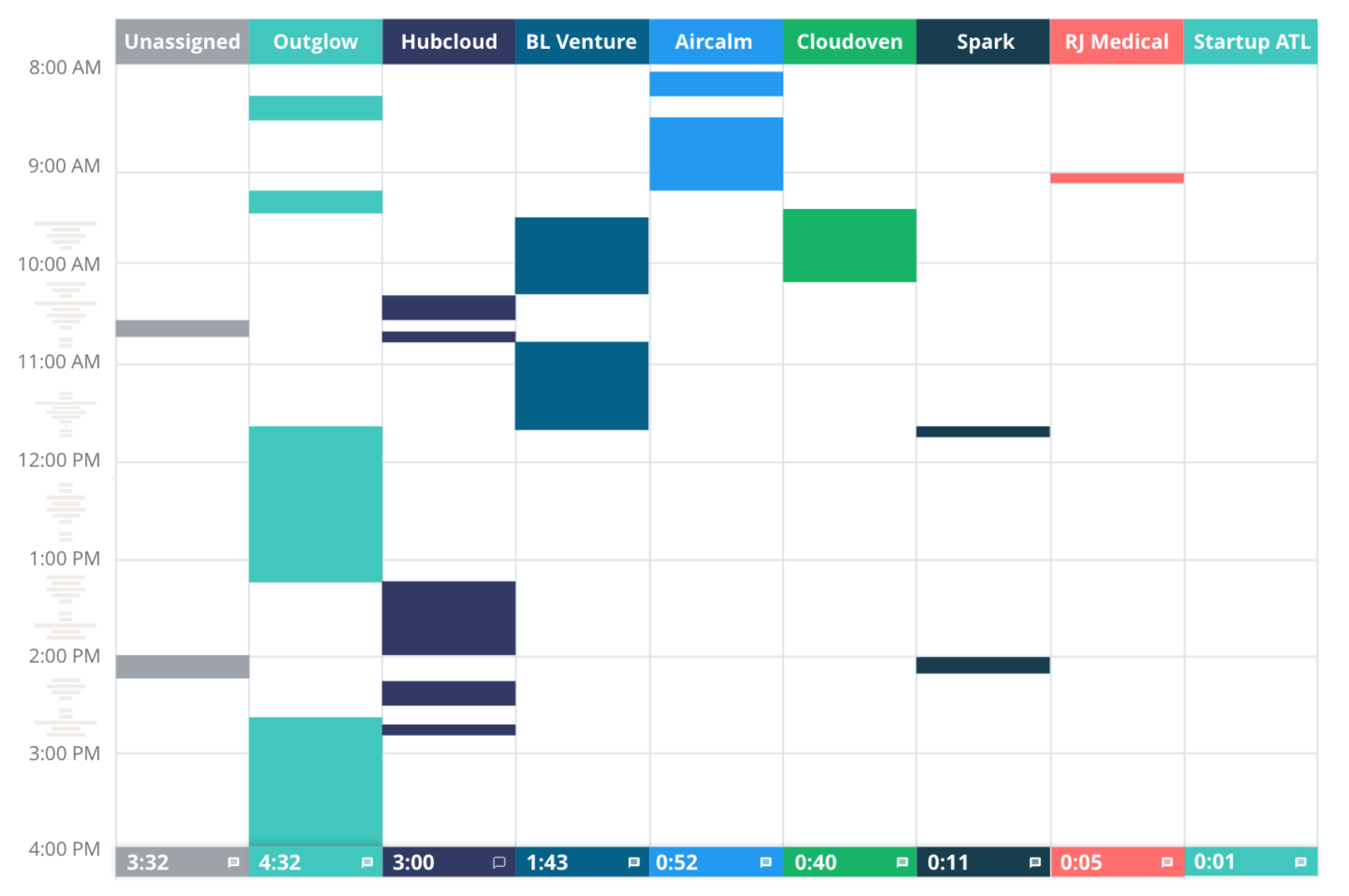 Assigning work to projects
With Harvest, you choose what project your time gets assigned to when you start the timer. There is no auto assigning of projects, every time you start the timer you have to choose a project.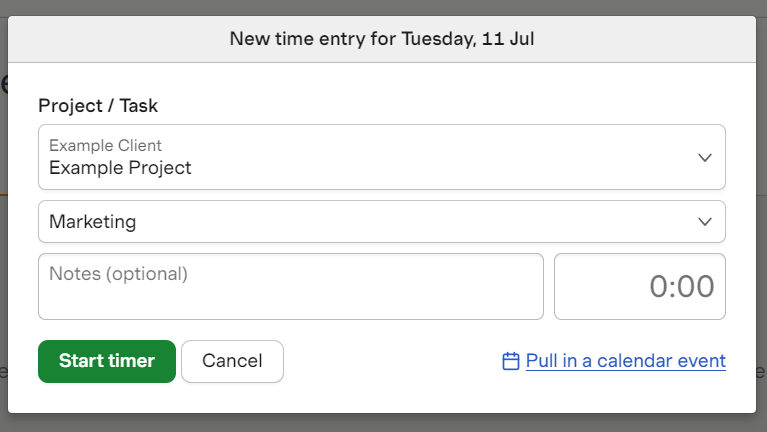 Once you track time for a project it will show up in the list under the Day view. If you're working on the same project again you can restart the timer by clicking start on the right hand side of the list.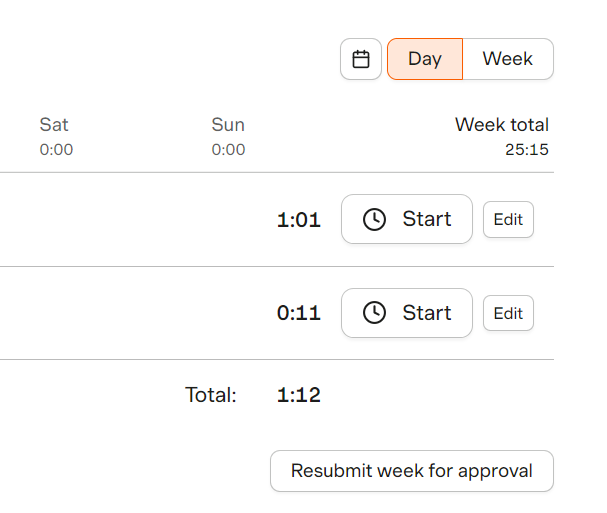 With Clockk, you have two options: Assign Once or Assign Always. If you opt for the Assign Always feature, Clockk recognizes your patterns and in the future will automatically assign the same task to the designated project. This automation saves you valuable time when it comes to assigning work during timesheet preparation.
When you log into Clockk, you can view your work organized by project and client in the Activity view.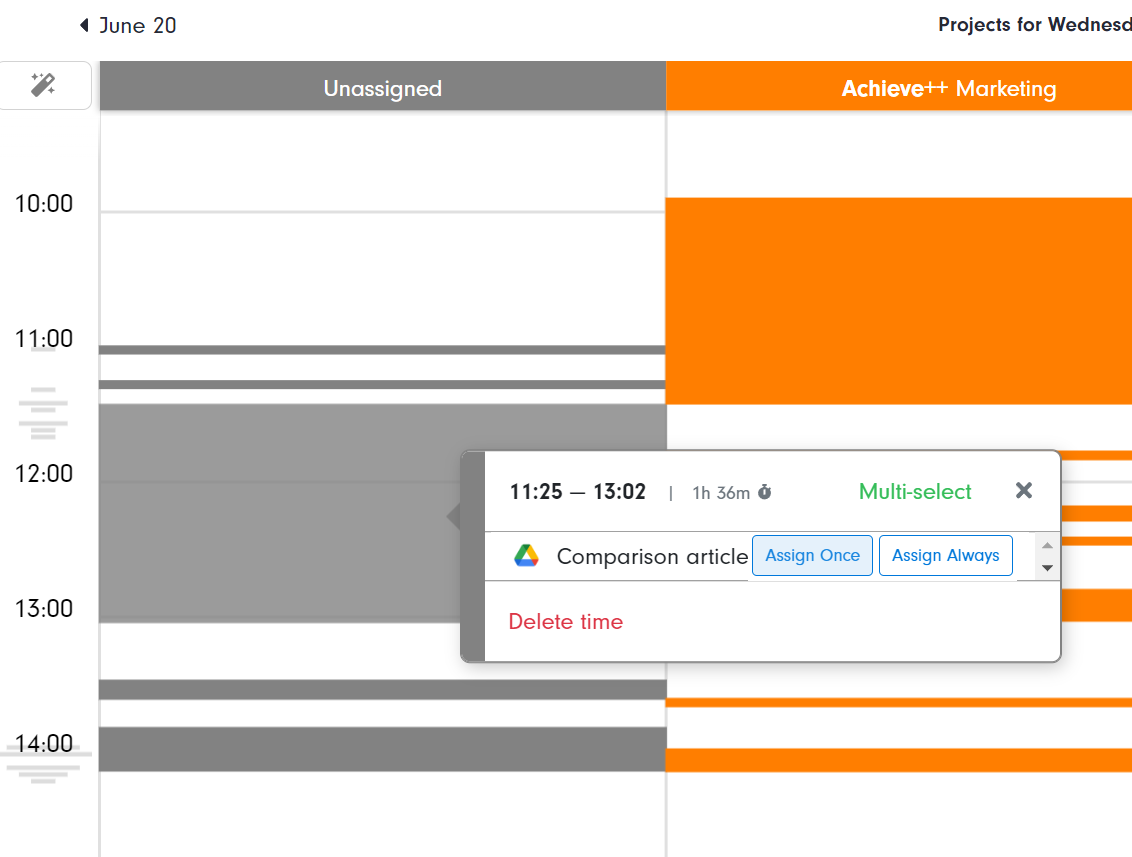 Interface
Harvest has two different views: Day view and Week view.
The Day view shows you every project you worked on that day and for how long. From the Day view you can start the timer and edit and add notes to your time entries. This view is useful for tracking your time as you work.

The Week view shows you a list of every project you worked on that week and how much time was spent on each project each day. From the Week view you can manually add in time entries and make any edits to time entries. This view is useful for adding in a lot of time at once without needing to click through to individual days.

Clockk also has two different views: Activity view and List view.
The Activity view groups your work in columns by project/client with the total time spent on each project at the bottom of the column for that day. You can click on a block of time in the Activity view to get a breakdown of everything you did during that time.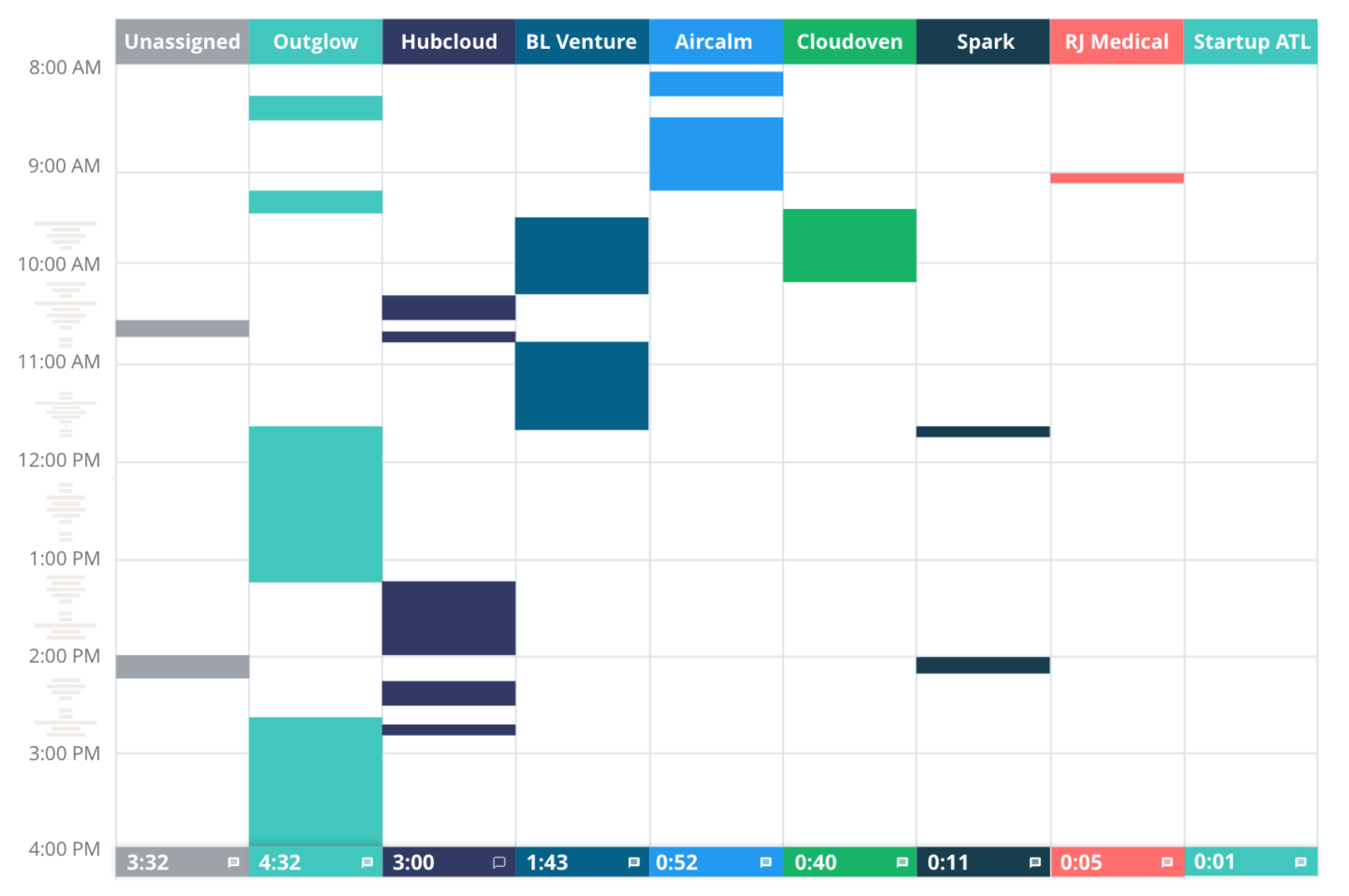 The List view shows your work in the order of what you spent the most time on. You can assign your work to projects from both the List view and Activity view.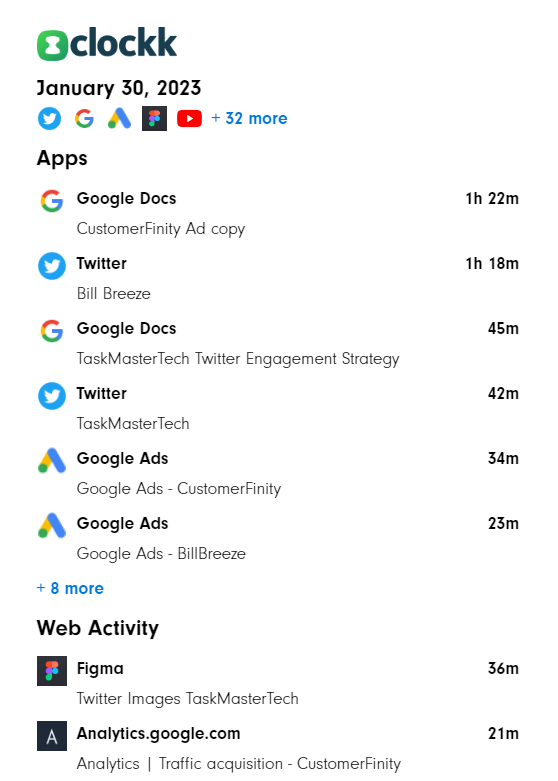 Reports
Harvest reports gives you insight into the hours spent on each project and allows you to understand total costs, profitability and the time specific tasks take to complete. View detailed reports of hours spent per week, project progress, and your remaining project budget. See the percentage of your time spent on non billable and billable projects and the amount to be invoiced.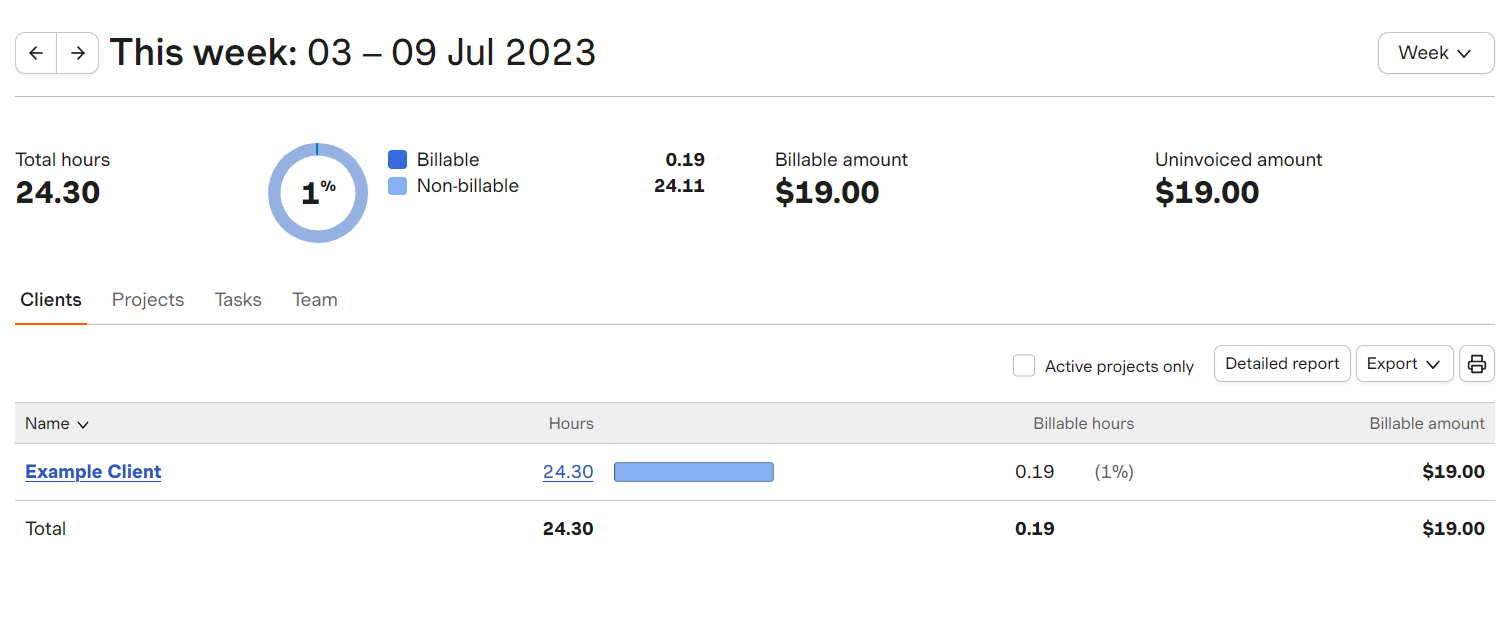 With Clockk you can view reports of tracked time that you can filter by any combination or day, team member, client, and project.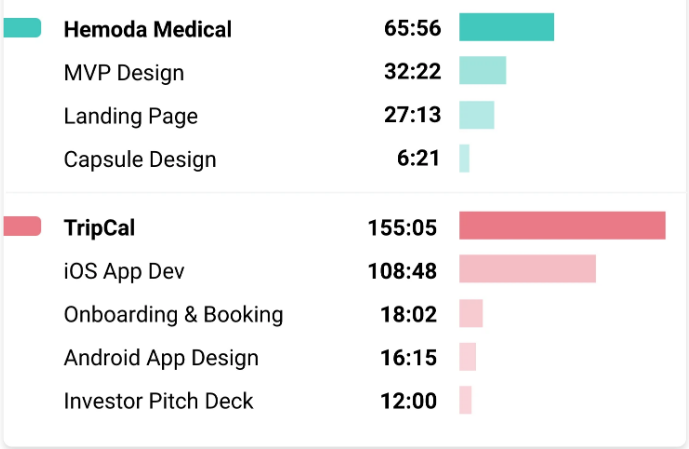 Invoicing
With Harvest, you can easily transform timesheets and expenses into invoices. You have the convenience of sending invoices through email or exporting them as PDF and HTML files. You can also accept payments from clients and see an overview of open and paid invoices. To ensure prompt payments, you can set up automated reminders, sparing your clients from any potential forgetfulness.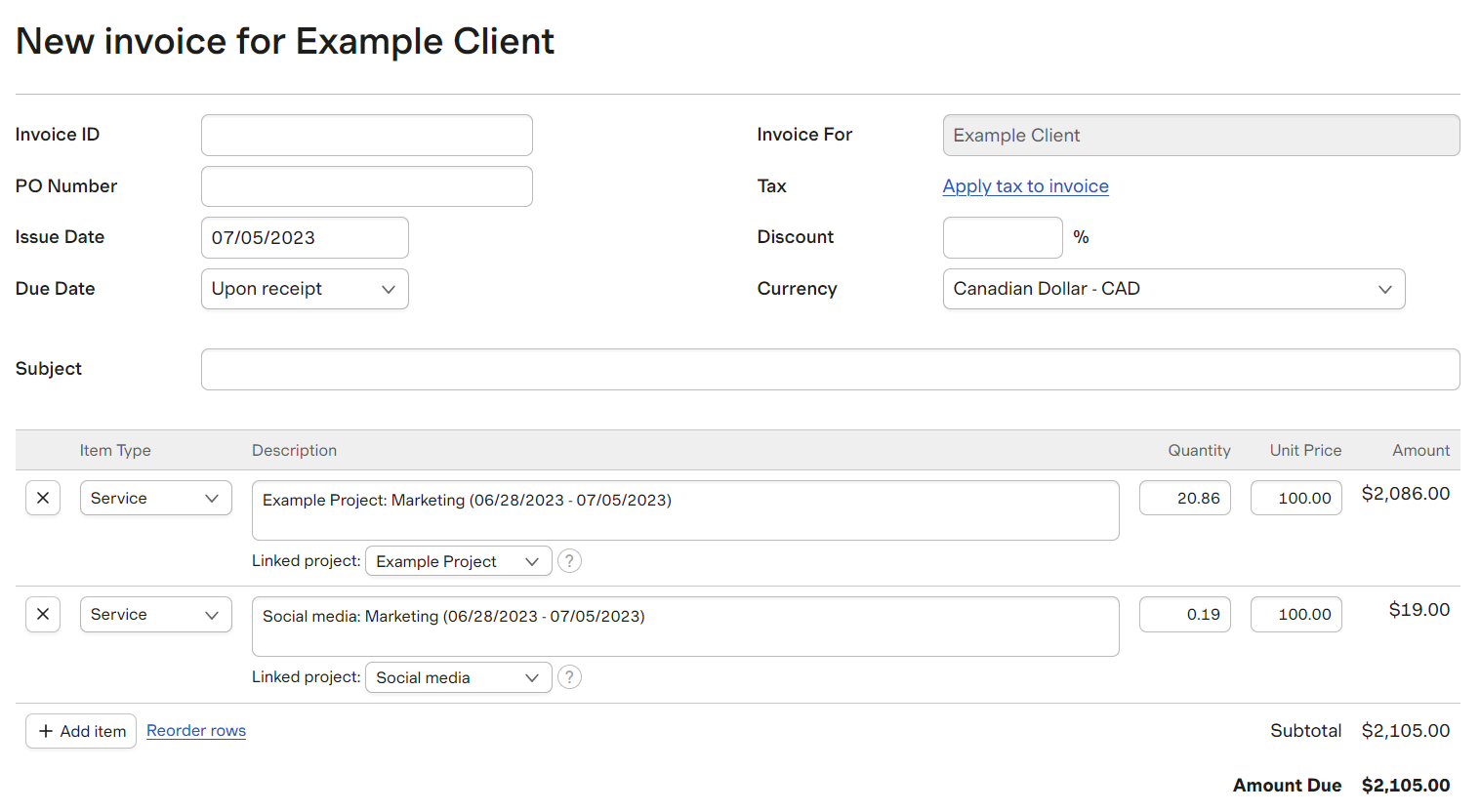 Clockk does not have any invoicing features. You do have the option to export your reports to Excel or Google Sheets.
Timesheets
In Harvest, you can submit your timesheets by clicking "submit week for approval." You can view all your approved timesheets under the "approved" tab. You can also remind team members to submit their timesheets under the "unsubmitted" tab by sending them an email reminder. You can also set up automatic reminders.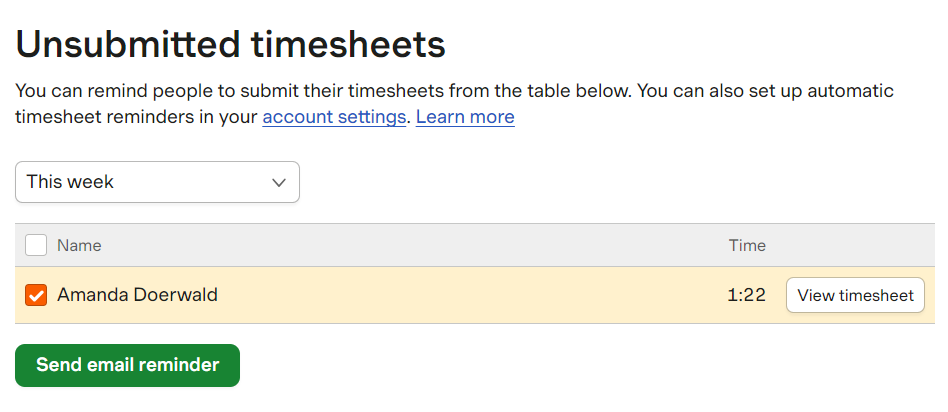 In Clockk, view your timesheets under the "timesheets" tab. Clockk automatically saves your timesheets. Easily see which projects team members have worked on and which team members still need to submit timesheets.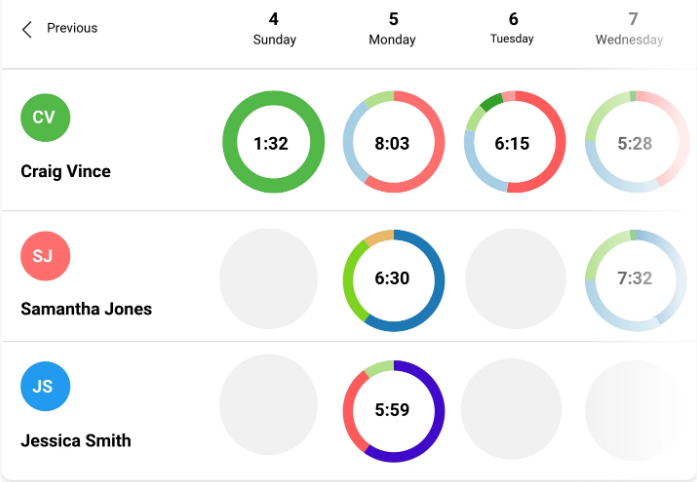 Integrations/ Supported apps
Both Harvest and Clockk have integrations with/support many popular tools such as Asana, Trello, Jira, Basecamp, GitHub, Slack, Quickbooks, Xero, plus many others.
In Harvest, the integrations allow you to start the timer directly from the app you're in without having to switch back to Harvest.
Clockk has supported apps, which give Clockk the ability to extract details from the applications you're using to determine different projects within the same app. Let's say you're a bookkeeper using Quickbooks for a dozen different clients. Clockk will distinguish between each account and learn which project/client each account gets assigned to.
User reviews
Harvest
"Harvest offers a comprehensive set of features that make time tracking and project management a breeze. One of the standout aspects of Harvest is its user-friendly interface, which makes it easy to navigate and understand."
"I like that is super easy to track my time and that it reads my calendar so I do not need to type the meeting again to enter my time."
"Harvest could be a basic time following program, it's simple to log time towards distinctive clients and/or distinctive ventures, the dashboard gives an at-a-glance diagram of how time is went through on different ventures, clients or indeed in general."
"Harvest is just really really really easy to use. Setting it up is fast and painless, administering jobs is easy, filling out timesheets is easy. Our team had a hard time tracking time prior to Harvest, and once we started using this software it became (almost) painless overnight."
Clockk
"Personally, I often find that tracking and capturing what you are working on takes longer and is a bigger hassle to do than doing the actual project work. You want to dive in and get things done, not write the narrative of what you are doing. I'm far more productive with Clockk automatically tracking things in the background and always having a record there to check on for whatever reason, and it does a stellar job at that!"
"Not having to click start stop on a Timer and getting all those little pockets of time recorded is huge. Sometimes when you sit down and you're like, Oh, I'm going to do something quick. And then it leads into something else and you didn't start the Timer. Then you're like, Oh, no, I just worked for half an hour and I didn't clock it."
"I could end up working on several different client accounts within an hour. Clockk keeps tabs on what I do and is smart enough to identify what files, URLs, and slack channels belong to each client."
"Clockk literally paid for itself in the first month that I purchased it because of all the extra time I was able to bill for clients when I wasn't realizing I was spending three minutes here and four minutes there. That stuff adds up. Each month is different for me but I would have to estimate that I'm billing probably 25 % to 50 % more per month than I typically would have otherwise."
Ready to save time and find unbilled hours? Get Started