Thriving as a freelancer with ADHD: 4 Must-have tools
Clockk • September 25
Neurodivergent freelancers with ADHD (Attention Deficit Hyperactivity Disorder) are finding their unique skills in great demand. The creative, dynamic thinking that often comes naturally to those with ADHD aligns well with the nature of freelance work. However, freelancing with ADHD also has its own set of challenges. These challenges include maintaining focus, managing time, and staying organized.
We'll explore 4 must-have tools that can make all the difference in your journey towards thriving as a freelancer with ADHD. From note-taking apps, to time tracking apps, these tools are your secret weapons for success. Let's dive in.
Best for time tracking: Clockk
One of the great superpowers ADHDers have is their ability to hyperfocus. They can immerse themselves in tasks they enjoy for extended periods. However, this intense focus comes with the lack of knowledge of how much time has passed.
On the flip side, there are days you find yourself frequently switching between clients. Before you know it, you've worked for 10 different clients within an hour and lost track of the time allocated to each one.
Clockk is an AI-powered (automatic) time tracking app. Clockk works in the background automatically recording your computer activity. Embrace your moments of hyperfocus without the burden of time tracking. Seamlessly transition between different projects, while still having a reliable record of your time spent on each one. Find the apps you used, websites you visited, your email, and calendar grouped by project/client in Clockk's Activity view.
Features and benefits
No start/stop timers to constantly monitor
Automatically assign work to projects
Embrace your natural workflow
Differentiate between different projects within the same app
Make more money by capturing all your billable hours
Create accurate project proposals
Plan your day with confidence
Insights into your work patterns and productivity
Price
Monthly subscription: $15/month
Annual subscription: $18/month
14 day free trial
"With Clockk, I not only create more accurate proposals, I have also raised my hourly rate because I know I'm more efficient. So if I'm going to do things quickly, I don't want to lose money doing them, so I had to raise my rate. And that's what having that knowledge of how much time things takes me."
"I can focus on something and completely not know how much time has passed. That's just how it works. To be a freelancer with that neurology is difficult sometimes because you look back and you realize that you've spent so much time doing this work and a few days pass or maybe not even a few days and you are not sure how much time you have spent. And being able to look back and just see it on the page is like magic."
Best for focus and managing your to-do list: Llama life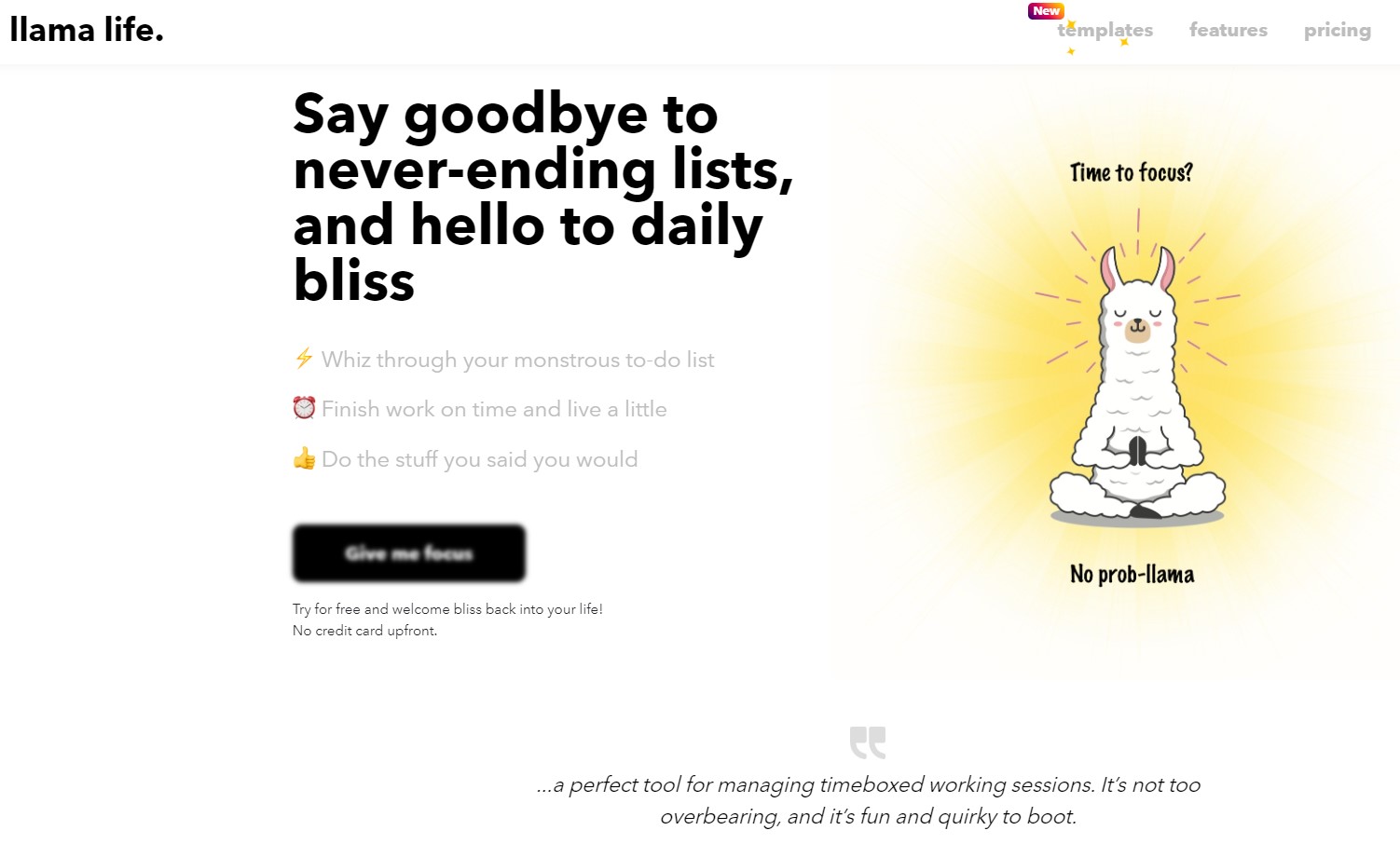 One of the challenges many ADHDers face is maintaining focus. Time blocking often doesn't work, and you still end up getting distracted and pushing things off in your to-do list. Time blocking helps with allocating your time, but it does not manage your attention during that time.
Llama life is the perfect tool to help work through your to-do list and maintain focus. Create focus sessions with Llama life to help encourage focus on the task at hand. Get a clear picture of your day and easily flow from one task to the next. View the total amount of time of your focus sessions and your projected finish time, which updates depending on your progress.
Features and benefits
Improved focus
Improved productivity
Wiz through your to-do list
Set countdown timers for each task
See start and end time for each task
Feel accomplished when you cross off a task
Reminders to stay on task
Personalize your tasks
Background sounds
Daily reports
Can break down your tasks for you
Helps you get started by selecting a task for you
Price
Monthly: $6/month
Annual: $39/year
Lifetime: $99/lifetime
7 day free trial
"I love Llama Life. It's helped me find my focus, really just like you said. Luv the colors, chimes, background sounds. Try it. It's AMAZING. Wish I had known about Llama earlier! It's also an awesome ADHD tool."
"I discovered Llama Life and it has been a wonderful help on my ADHD! I like the sounds of accomplishments and managed to leave the white noise on background so my mind is associating it to working time. Thanks for the great job!"
Best for note-taking: Obsidian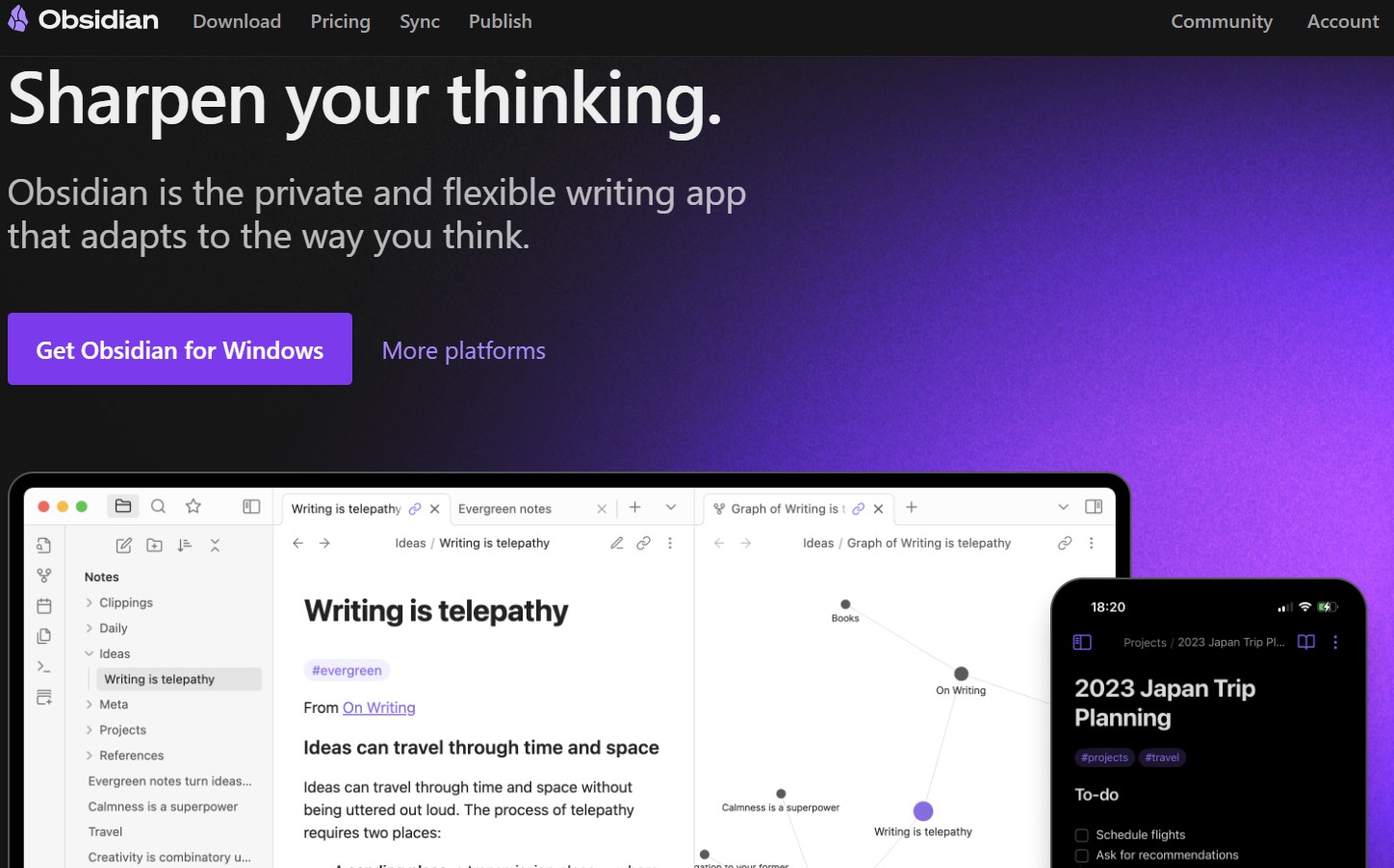 Your brilliant mind deserves a convenient space for capturing ideas, thinking clearly, and organizing thoughts effectively. Note-taking tools should align with your way of thinking, not the other way around.
Obsidian is a note-taking and knowledge management app that adapts to the way you think. Obsidian helps freelancers keep their thoughts, ideas, and project details organized in one place. Interlink your notes to form a web of interconnected ideas and information. Easily find and retrieve relevant information quickly, which is especially helpful when switching between clients and projects.
Features and benefits
Keep your thoughts organized
Private and flexible
Create connections between your notes by linking them
Easily find and retrieve relevant information quickly
Access your notes on any device
Customization to meet your unique needs
Create a workplace that aligns with your working style
Publish your notes online
Price
Personal use: Free
Commercial use: $50/year
14 day free trial
"I use Obsidian a lot. It's like one of those second brain softwares. I just have notes connected to notes. It's got this amazing graph system where you can just see the more notes you have and connect over time with interlinks between them. It's like it forms a brain in the node view with all the docs connected to each other."
Best for organization: Johnny Decimal System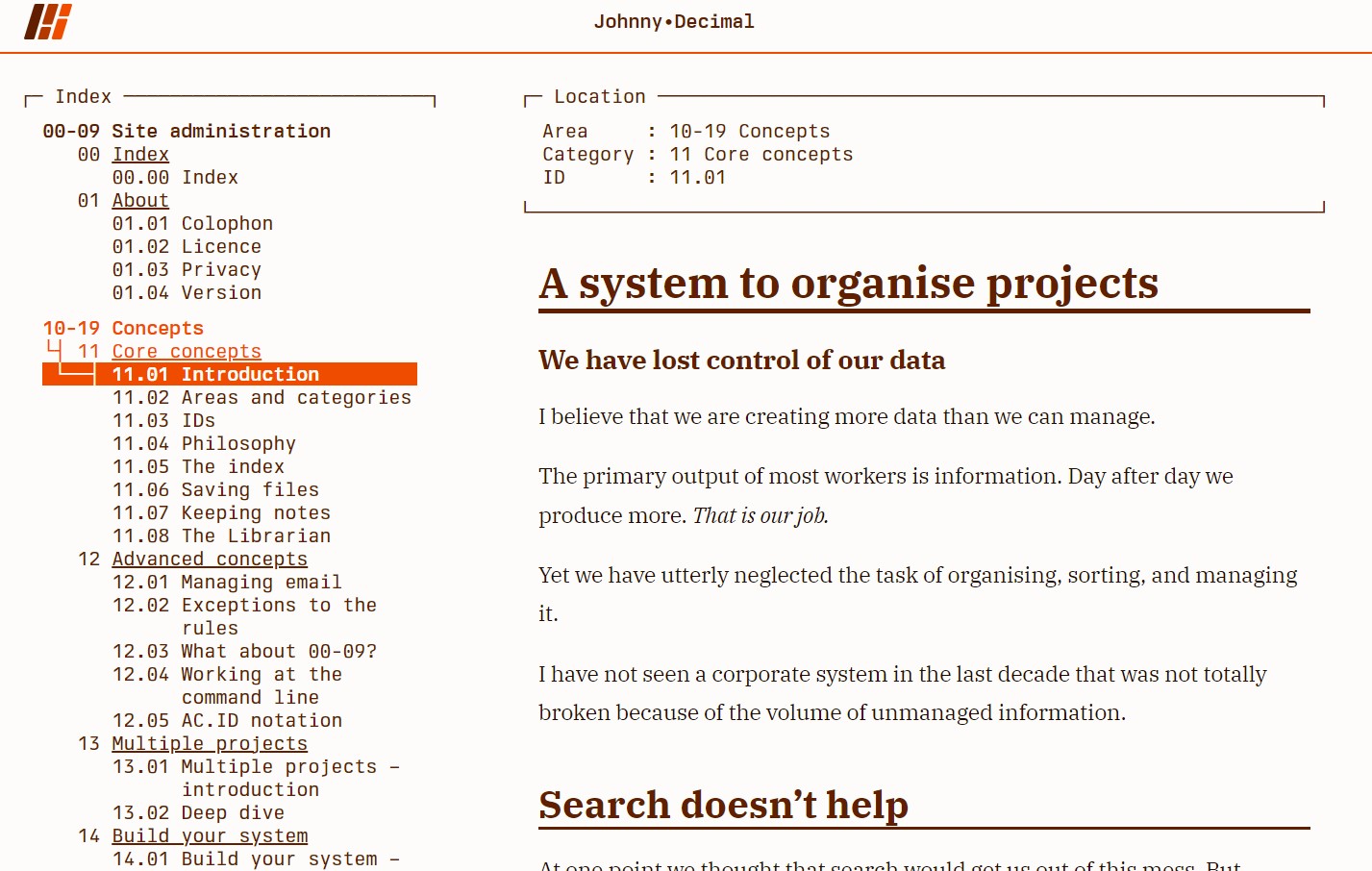 ADHD can make it challenging to stay organized. As a freelancer with many clients, your files can become easily disorganized and chaotic. It's frustrating to spend excessive time searching for the files you need. Bring order to the digital chaos with the Johnny Decimal System.
The Johnny Decimal System is an organizational method for managing digital files and information. The system divides information into a series of categories, each identified by a unique number, making it easier to locate and manage digital assets efficiently. Freelancers with ADHD can benefit from this structured approach. It helps reduce cognitive load and makes it easier to find what you need.
Features and benefits
Clear and logical framework for organizing digital files and information.
Quickly retrieve relevant files and information
Consistency in organizing your digital assets
Customizable to fit your specific needs
Sense of order and clarity in your digital workspace
"I'm not exaggerating when I say the Johnny Decimal System has fundamentally changed the entire way I organized my life and my pursuits because I can separate the different files that I have on my computer and everything is organized."
"with me, I constantly have new projects, ADHD represent. I am constantly writing things down. I need there to be some sanity. And so to be able to have that sanity, and it's just numbers. You just add numbers to the folders. It's not something you have to buy. It's very modulative to your own routine."
Ready to save time and find unbilled hours? Get Started