What is an automated time tracker
Amanda Dykstra • June 13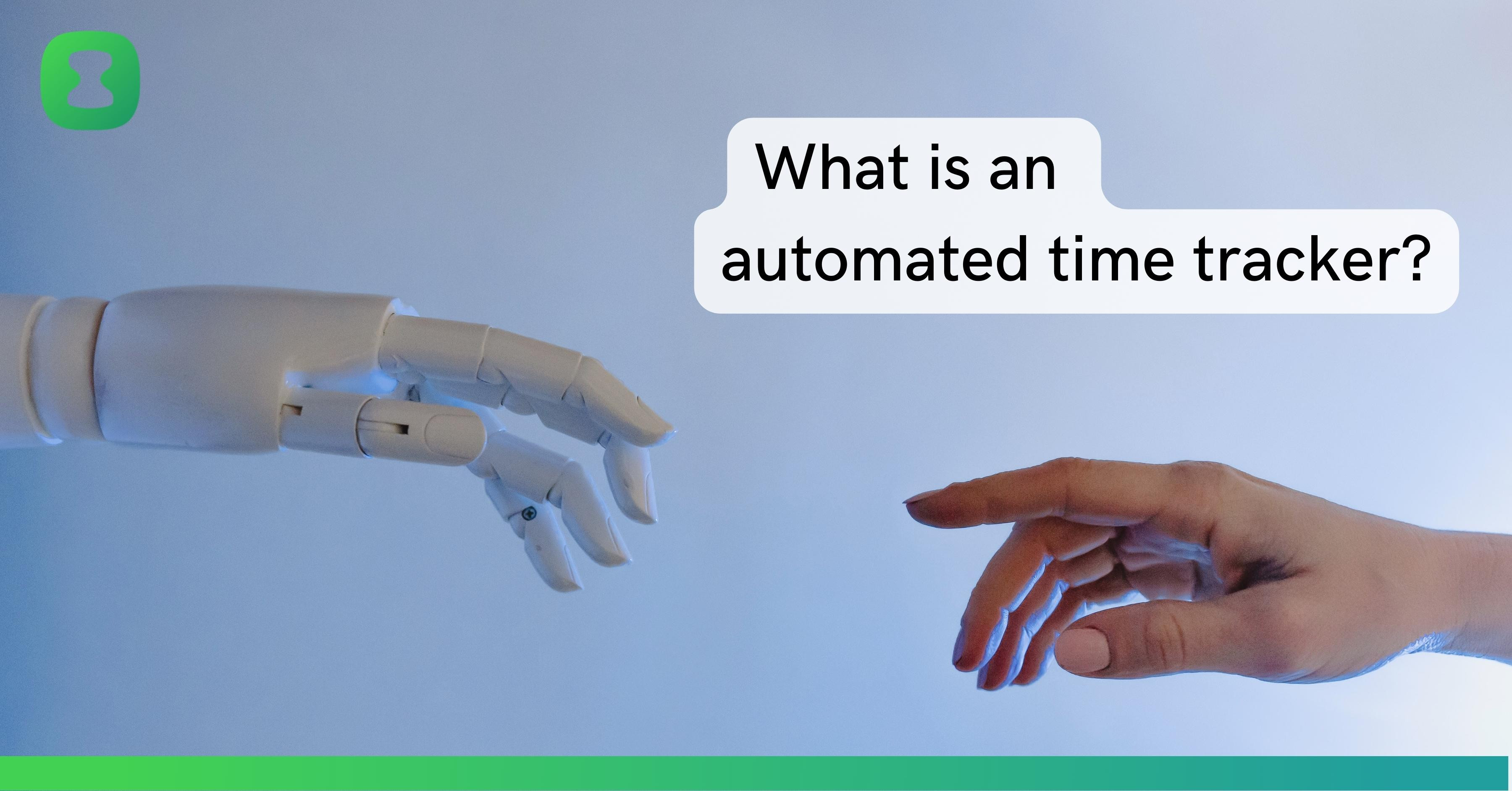 An automated time tracker (or automatic time tracking app) is software that automatically tracks what you do on your computer and for how long. They are used to help you bill your time, and/or gain productivity insights.
Automated time tracking tools require you to install one or more trackers on your computer that run in the background, recording the time you spend using different apps and websites. The trackers report your activities to an app, running either on your computer or in the cloud. Using some kind of pattern recognition or AI (Artificial Intelligence), the app analyzes tracked activities and presents a visualization of your day. You access this visualization when you want, rather than throughout the day, leaving you to focus on your work.
Automated time trackers replace old-school methods like pen and paper and those bothersome start and stop timers.
Manual vs automatic time tracking
We consider manual time tracking to be any method or tool that requires users to actively record their time while they work and switch between tasks. Examples include:
Writing down the start and end times of tasks on paper, with relevant notes or descriptions.
Inputting time entries into Microsoft Excel or Google Sheets templates.
Using time tracking apps that require you to hit a start/stop timer to track your time (such as Toggl, Harvest, Clockify, Clickup).
Advantages of manual time tracking
Simple to understand and easy to use
Minimal setup and technical expertise
Flexibility and customization
Control over time records and privacy
Why people hate manual time tracking
Time tracking disrupts your focus from doing the job you actually enjoy.
Remembering to start/stop a timer or make a note EVERY time you switch between projects or take a break.
Inaccuracy caused by forgetting to set timers and having to guess time spent.
Financial loss due to missed billing opportunities by not capturing all billable hours.
Very tedious and time consuming.
Stress of forgetting what you worked on and having to make your timesheets up.
An automatic time tracker, on the other hand, is a tool that doesn't require users to actively record their time while they work and switch between tasks. You can carry on with your work as usual, while the tool seamlessly tracks your work in the background. You can log into the app at your convenience to make any adjustments to your tracked data and assign your work to specific projects and clients.
People love automated time tracking because
Effortless time tracking with no start/stop timers to constantly monitor
Ability to focus on your work without interruptions of manual time tracking
Confidence that you're billing your clients accurately
Make more money by capturing all your billable hours
Easily switch between different projects and clients
Insights into your work patterns and productivity
Disadvantages of automated time tracking
Learning curve - but it's no different than learning to use any other new-to-you app
Privacy concerns - we'll talk more about tracking privacy below
Trusting an algorithm to track your work, rather than human judgment
Difficulty tracking offline work and phone calls
Different types of automated time trackers
There are different types of automatic time tracking tools:
Timesheet automation tools: Help you track billable hours so you can charge your clients fairly and accurately, without leaving money on the table.

Productivity tools: Help you boost productivity by revealing your most productive moments, and then helping you find/create more of those moments.

Employee monitoring tools: Keep an eye on your employees by monitoring their screens, keyboards, mouse movements, and other computer activity, to make sure they're at their desks, doing the work they're supposed to do.
Timesheet automation tools
Timesheet automation tools help you remember what you worked on. They make it a breeze to submit accurate timesheets and bill your clients the right amount. You can dive headfirst into your projects, while accurately tracking your day. Most of these tools guarantee your privacy. Your boss won't get a sneak peek into your tracked data!
Popular timesheet automation tools are
For timesheet automation tools to work, you need to install at least one tracker on your computer. These trackers watch which apps you're using, and report that information to an app either on your computer or on a cloud-hosted server.
Timesheet automation tools are pretty awesome! They capture your billable hours like a pro, so you can bill your clients accurately. This means more money in your pocket. Cha-ching! Additionally, they save you time and effort by making time tracking a breeze. You can focus on delivering top-notch service to your clients instead of tracking your hours. These tools grant you the superpower of multitasking. You can seamlessly switch from one task to another, while your automated time tracker records your entire day.
Automated time trackers have one notable limitation. Desktop trackers typically only track your currently active app's window title. With only a window title, they often can't distinguish between different documents or projects. This is especially true with web apps run inside a browser. Let's say you're a bookkeeper using QuickBooks for a dozen different clients. Most automated time trackers can tell you the total time you spent in QuickBooks, but they can't provide a breakdown of time spent on each client.
Clockk solves this problem with two separate trackers and a concept we call "supported apps". One tracker is installed on your computer (macOS or Windows), to monitor the applications and files you use. The other is a browser extension, that tracks the websites and web apps you use. Clockk's browser extension has the ability to look deep inside the "supported app" you're using to determine which project you're working on.
In other words: Bookkeepers and accountants using Clockk can precisely and automatically track the time they spend working on each client's accounts, even though the window title only says unhelpful things like "Statement of Accounts" and "Journal Entry".
Clockk supports apps like Twitter, Instagram, Quickbooks, Xero, Mailchimp, ConvertKit, Moz, Klaviyo, and so many more! This means that Clockk can distinguish between different projects within the same application. For example, if you're a social media manager handling multiple Twitter, LinkedIn and Instagram accounts for different clients, Clockk will distinguish between each account and automatically assign its time to the right client and project.
Productivity tools
Productivity tools, although they are technically time trackers, don't concern themselves with billable/unbillable time, clients and projects. Instead, they analyze the websites and apps you're using and decide if you're being productive or unproductive. They help you discover sustained periods of productive work, known as "deep work", so you can unleash your maximum productivity potential. Most of these tools are private and run on your local computer, keeping your productivity secrets safe and secure!
Popular productivity tools include
Productivity tools often come with a built-in bias: time in Excel and Google Docs is good. Time on YouTube and Twitter is bad. Switching between apps quickly is bad. Staying in one app is good. Often these settings are configurable, but it takes effort to understand and reprogram the productivity tool's built-in bias.
Clockk does not have a bias about productive vs. unproductive time. It's totally up to you to decide if your time was productive or not! Spending time on Twitter and YouTube could be an especially productive day for a social media manager, but a day wasted for a bookkeeper.
People use productivity tools as time tracking aids for billable work. These tools help you remember what you worked on, so you have a better chance of billing your clients fairly. However, they report time at an app level, and rarely even at the document level. i.e. you know you worked in MS Word, but you don't know which document, or you worked in Chrome, but you don't know which web apps.
While Clockk is great for keeping your billing in check, it's also a handy tool to amp up your productivity. Clockk gives you a sneak peek into where your precious working hours are going. You can see which tasks are taking up too much of your effort and strategize ways to make them more efficient.
Here's 3 ways automating your time tracking can help improve your productivity.
Employee monitoring tools
Employee monitoring tools are used by employers to keep tabs on their employees. They track your computer activity, idle time, and even take screenshots (yep, they're snoopy like that!). The goal? To make sure bums are in seats and work is being done. These tools can be handy for billing and productivity purposes in the same way that productivity tools are, except your information is not private.
Popular employee monitoring tools include
DeskTime
Time Doctor
HubStaff
Clockk cannot be used for employee monitoring. Everything Clockk tracks is private, exclusively for your eyes only. We're firm believers that employee privacy is a right, not a privilege. Read more about our opinion on employee monitoring software.
Clockk - AI powered (automated) time tracking
If you're looking for an automated time tracker to assist with billing or productivity, give Clockk a try. Clockk automatically tracks your work and organizes it by project/client. Enhance your productivity and focus on delivering value to your clients - while Clockk captures all your billable hours!
"Now I am free to switch between client projects when required, confidently in the knowledge that Clockk will have me covered. Clockk has truly made time tracking effortless, allowing me to focus on what matters most - deliver quality work for our clients." -Richard Harvey
"I did Toggl, I did Harvest, I did my phone start stop. I tried everything you can think of. And undoubtedly, I was always great about pressing the start, but just terrible at pressing stop. I would go to look at my time later on and apparently, I'd work with somebody for four hours that day when it was only four minutes. But yeah, I tried them all and I hated them with a passion until Clockk came around." -Richard Zimbalist
Ready to save time and find unbilled hours? Get Started