Pros and Cons of Harvest (2023)
Clockk • July 12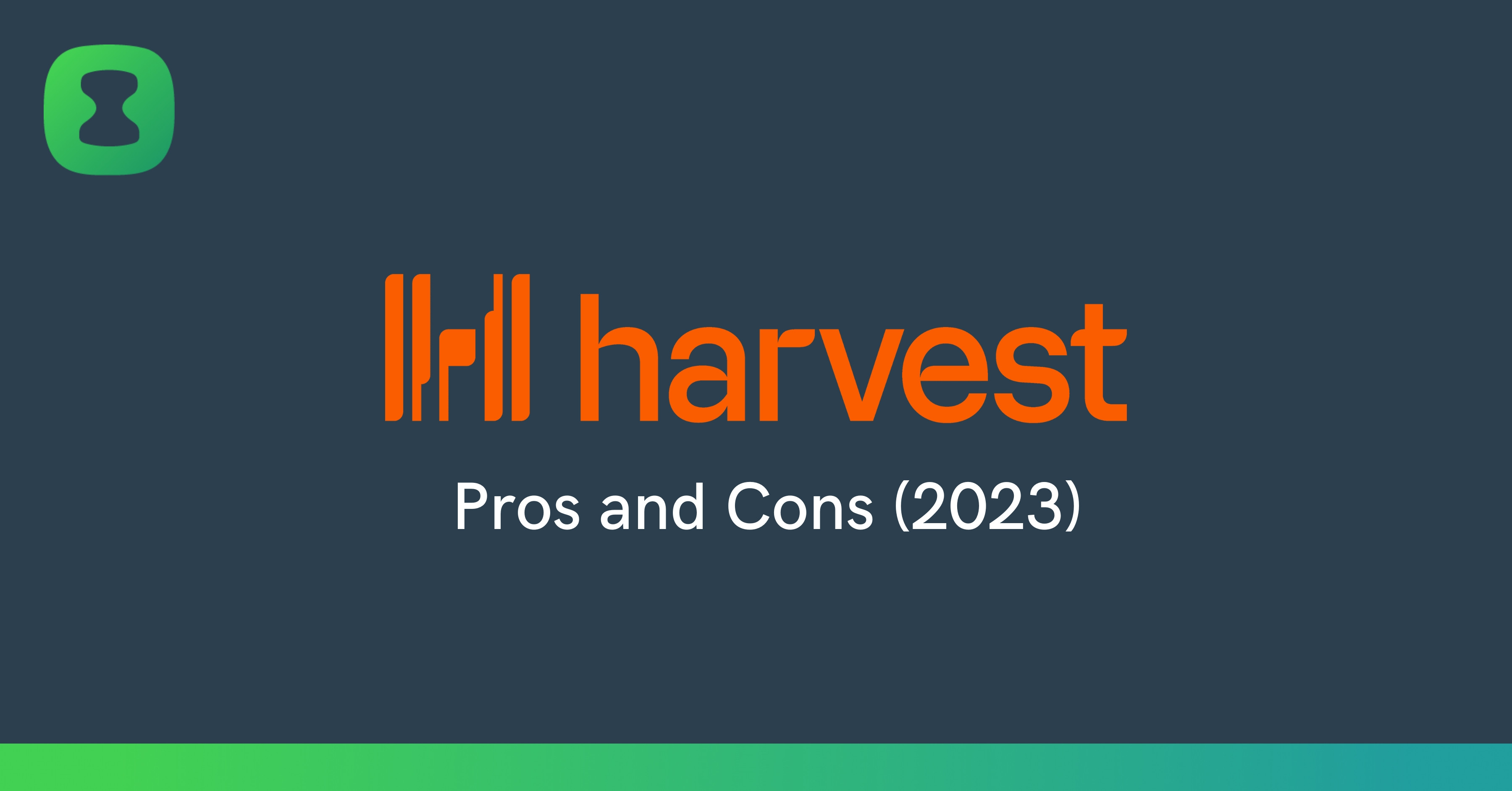 Harvest is one of the most popular time tracking apps on the market. It's simple to use, and helps freelancers and business owners boost their productivity and profitability.
Lets dive in and explore the pros and cons of Harvest.
Pros of Harvest
Time tracking is very easy for even non-technical users
Minimal setup and technical expertise
Flexibility and customization
Control over time records and privacy
Reports are intuitive and easy to understand
Can use with large teams
Easy to create and send invoices
Integrates with many apps
Easy to manage tasks, roles and projects for any given client
Slick mobile app
Cons of Harvest
The biggest downside of Harvest is the manual timers. They are easy to forget to start/stop, leaving you with inaccurate data and potentially missing out on billable hours leaving tons of money on the table.
Remembering to start/stop a timer or make a note EVERY time you switch between projects or take a break.
Timers disrupt your focus from doing the job you actually enjoy.
Inaccuracy caused by forgetting to set timers and having to guess time spent.
Financial loss due to missed billing opportunities by not capturing all billable hours.
Very tedious and time consuming.
Stress of forgetting what you worked on and having to make your timesheets up.
Inability to track multiple projects at once
What are users saying about Harvest
Are you trying to decide if Harvest is right for you? Here are the most recent reviews from users about Harvest.
What's good about Harvest
"Tracking billable time - You can set different rates for different people on each project. Or you can charge for the task type. It also will track expenses that you can bill on to clients."
"It will make invoices really quickly. This is the reason we switched to Harvest. We track our time and then simply send them the invoices. We can also set up automatic reminders for late payments. Clients can click the invoices and pay electronically which is nice."
"It's quite simple to set up a project and to use it. The apps are great and function very well and reliably."
"Project time management can be set up for multiple projects and multiple tasks within each project to allow for more accurate billing."
"We can use Harvest in conjunction with the workflow organization tool Trello so that we can dedicate projects, attach, and view time spent on projects so that information is easily accessible to anyone who needs it across multiple departments."
"Harvest sends/emails regular time analysis reports so you can see where your time has been spent between projects."
"Harvest is just really really really easy to use. Setting it up is fast and painless, administering jobs is easy, filling out timesheets is easy. Our team had a hard time tracking time prior to Harvest, and once we started using this software it became (almost) painless overnight."
"Harvest is affordable, but so feature rich and easy to use. I can track my time (I actually integrate with Timeular for this, but tracking directly in Harvest is easy, too.) keep track of project budgets, invoice and get paid via Strip integration, then reconcile everything when it's time to do account and taxes."
"Harvest app simplifies time tracking and scheduling with its user-friendly interface. Accurate and detailed time tracking helps in monitoring project progress effectively. Seamless integration with project management tools streamlines workflow and eliminates manual data entry. Customizable timesheets and project settings accommodate different project needs and workflows. Robust reporting and analytics features provide valuable insights for resource allocation and project planning. Efficient scheduling capabilities enable better coordination and allocation of team resources. Mobile app allows for on-the-go time tracking and keeps remote teams connected. Easy invoice generation and integration with accounting software simplify billing processes."
What's bad about Harvest
"I did Toggl, I did Harvest, I did my phone start stop. I tried everything you can think of. And undoubtedly, I was always great about pressing the start, but just terrible at pressing stop. I would go to look at my time later on and apparently, I'd work with somebody for four hours that day when it was only four minutes."
"I would like to have a way to track the "total work time" instead of it just adding the time altogether. For example, often there is time that is not billable but then you also don't really want to track either. It would be nice if each day workers could clock in and out for payroll purposes."
"Right now if you switch the rate you want to charge a client for a specific person, you can't, it would affect the past charges. You have to create a new project. It would be nice if they had an option to change the rate, but only have that affect changes in the future."
"It would be great if they integrated with real merchant accounts. Right now it just uses things like Stripe and PayPal but usually, we charge the credit card ourselves so it would be nice to be able to do that ourselves through Harvest."
"It would be nice if time tracking for a day on one project would just show cumulatively instead of showing each time entry that was started and stopped."
"It is important to consider that Harvest interacts efficiently when working with some integrations, so we must take the time to know the value that we are going to obtain from each one of them, although we know that it is related to time estimation and billing, in some cases, this integration is more of a complement to cover some deficiency of the software that we are using."
"If you write a app which tracks hourly time and tries to put it into buckets for easy expensing, the time-tracking app should be simple for the multitude of non-admin users. Simply put, it's cumbersome and annoying."
"Learning curve for new users due to multiple features. Limited options for project budgeting and expense tracking. Integration limitations with certain project management tools. Customization options may be limited for specific business needs. Mobile app functionality can be improved for a smoother user experience. Invoicing features may lack advanced customization options. Reporting and analytics capabilities may not meet complex data analysis requirements. Lack of built-in task management features may require integration with other tools. Pricing plans can be restrictive for small businesses or freelancers. Limited offline access for time tracking in areas with poor internet connectivity."
"One drawback of Harvest is that you have to type in the times if you are not integrating with another system or if you are entering times manually. If there was a drop down with the numbers and the am/pm that would be more efficient.Another drawback of Harvest is its limited integration options with other third-party software. While it does support our main project management tool Nifty, expanding the list of integrations could enhance the overall flexibility and compatibility of the software."
Automate Harvest's time tracking with Clockk
Clockk is an AI-powered time tracking app that automatically tracks what you what you worked on and for how long. Continue to use Harvest and eliminate the worst part - start/stop timers.
No start/stop timers to constantly monitor
Focus on delivering top-notch survive to your clients instead of tracking your hours
Make more money by capturing all your billable hours
Bill your clients confidently
Insights into your work patterns and productivity
Learn more about how to automate Harvest with Clockk
Ready to save time and find unbilled hours? Get Started