Toggl Track vs Clockk: 2023 comparison
Clockk • March 9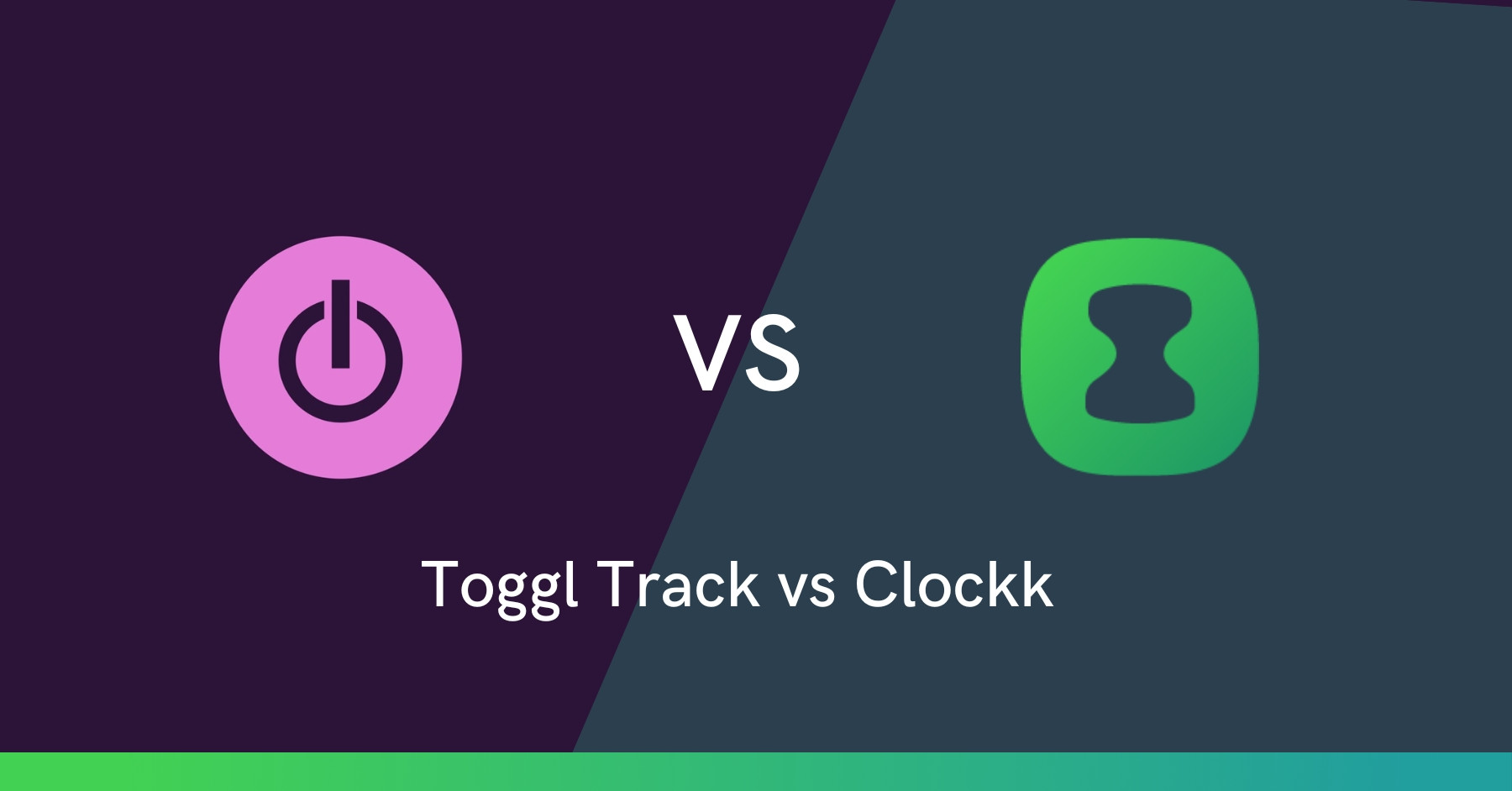 Toggl Track and Clockk are both time tracking apps for freelancers, agencies and consultancies. They are used to track how much time is spent on projects.
The main difference between the two is how they track time.
With Toggl Track, you track your time manually by starting and stopping a timer and then assigning it to a project/client.
Clockk works in the background tracking your time automatically. Overtime Clockk learns which project/client your work gets assigned to.
Toggl Track pricing
Toggl Track has 4 available plans. The higher level plan, the more features you get access to.
Free - Great for freelancers or small businesses of up to 5 people. It has basic features such as unlimited time tracking, unlimited projects and clients, report analytics, idle detection, Pomodoro timer, and others.
Starter - Great for small teams. It has additional features such as billable rates, time estimates on projects, and tasks (sub-projects).
Premium - For multiple teams. It has features such as time tracking reminders, time audits, Insights, and project forecasts and analysis.
Enterprise - For large complex organizations. It has options such as expert training and assistance and priority support.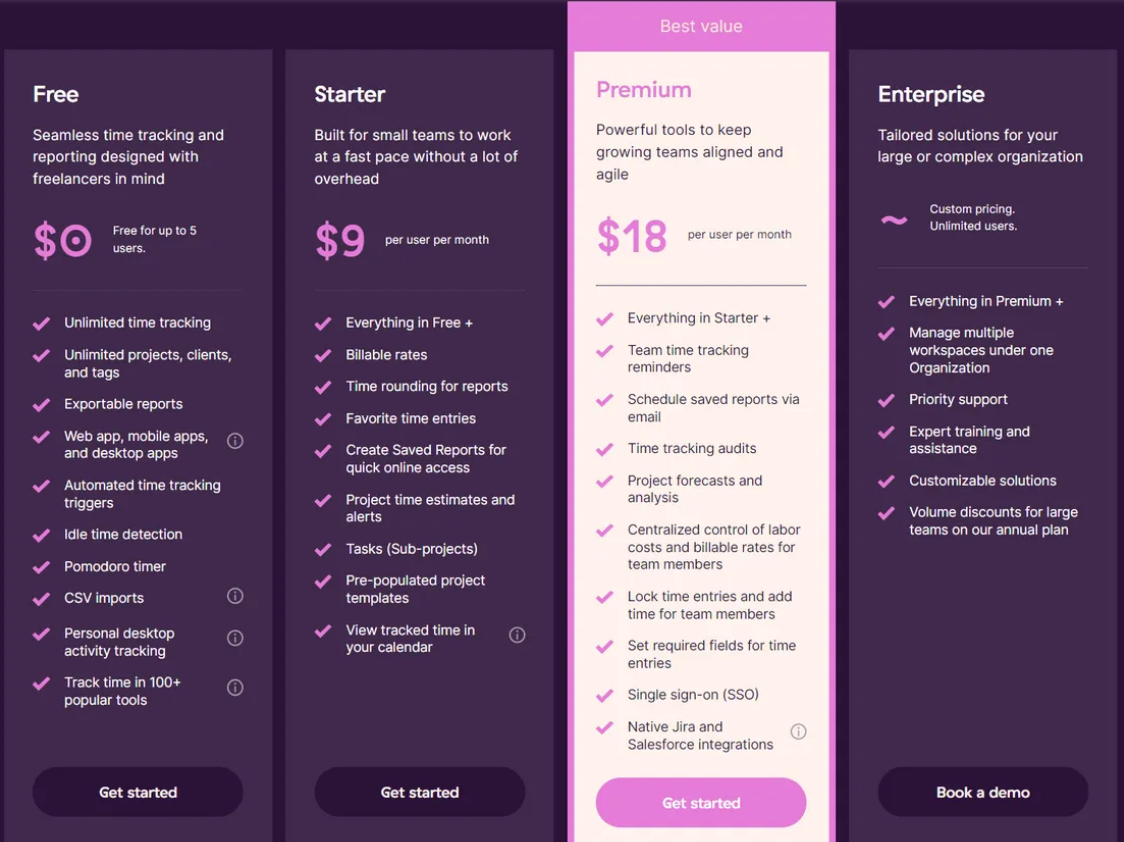 Clockk Pricing
Clockk has two different products to choose from: Clockk Insight and Clockk Time.
Clockk Insight is a daily email that shows you what you worked on and for how long. You can use Clockk Insight with your existing time tracker (if you have one) to supercharge your workflow with automatic tracking.
With Clockk Time you get access to Clockk's unique activity view which shows your work organized by project/client. You also get access to reports.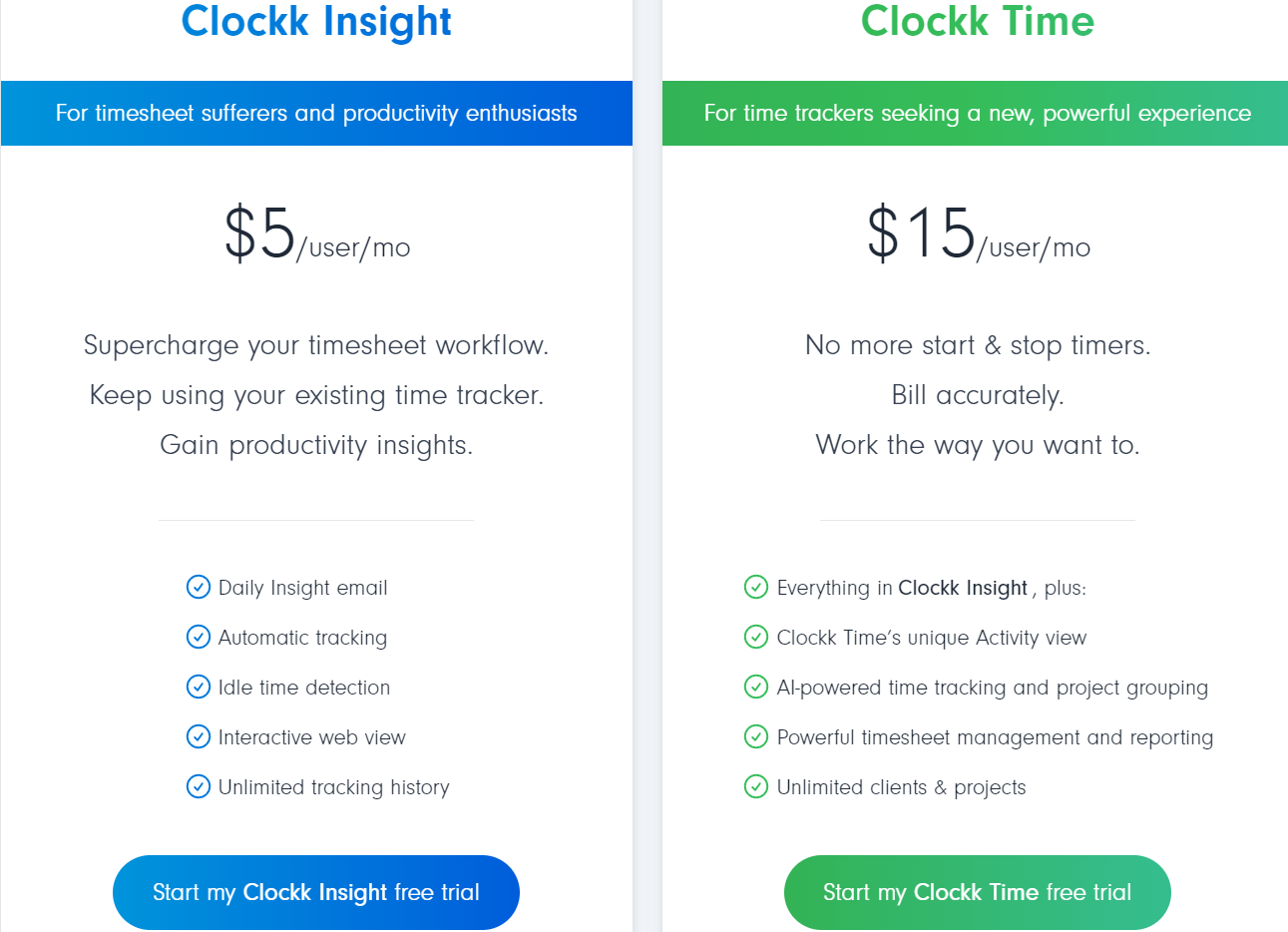 Toggl Track vs Clockk features
Time tracking - Toggl Track
Track your time in Toggl Track by starting/stopping a timer, or entering in your time manually. You can also add your calendar events as time entries.

Save your tracked time by stopping the timer and adding a description and project/client.

You can also add tags to your time entries and add if the time is billable.

You can use Toggl Track online in your browser. There is also a desktop app, browser extension, and a mobile phone app.

Toggl Track gives you reminders if you forget to start/stop the timer

Toggl Track has an Idle detection feature if you left your computer and left your timer running.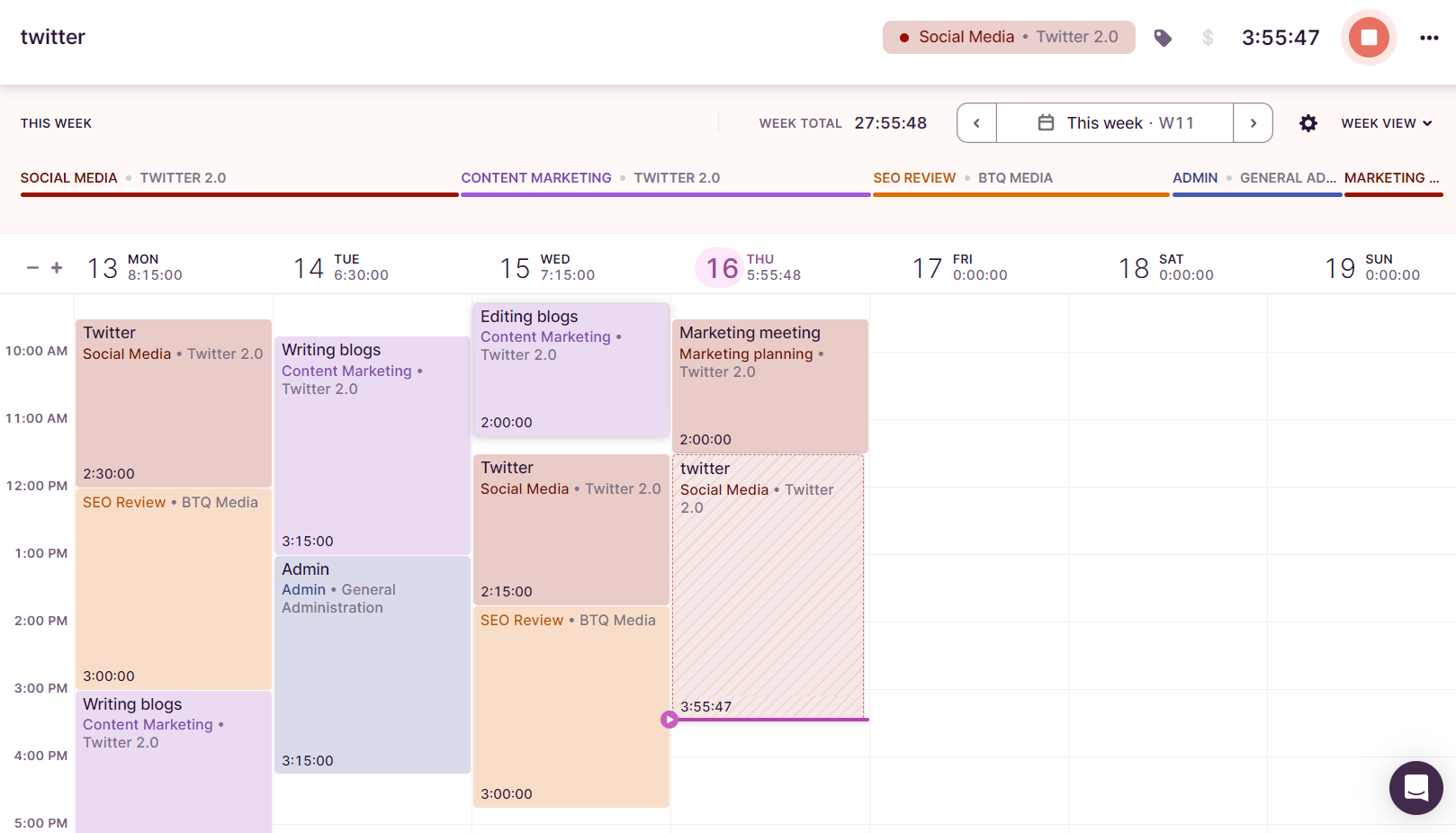 Time tracking - Clockk
Clockk works in the background and tracks time automatically.

Install two private and secure trackers: the desktop app and browser extension.

You can also connect your email and calendar to track the time you spend writing emails and your calendar events.

Train Clockk's AI by assigning your tracked time to projects/clients that you created.

You can view your tracked time in Clockk's activity view which organizes your work by the project that it's for.

You can also view your tracked time as a list view in the Clockk app under daily detail or in your email.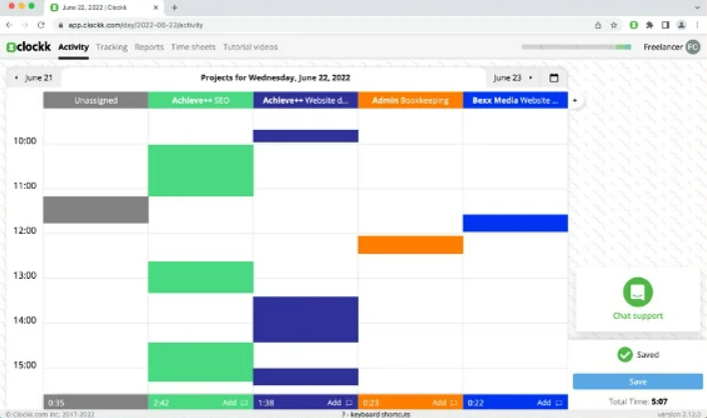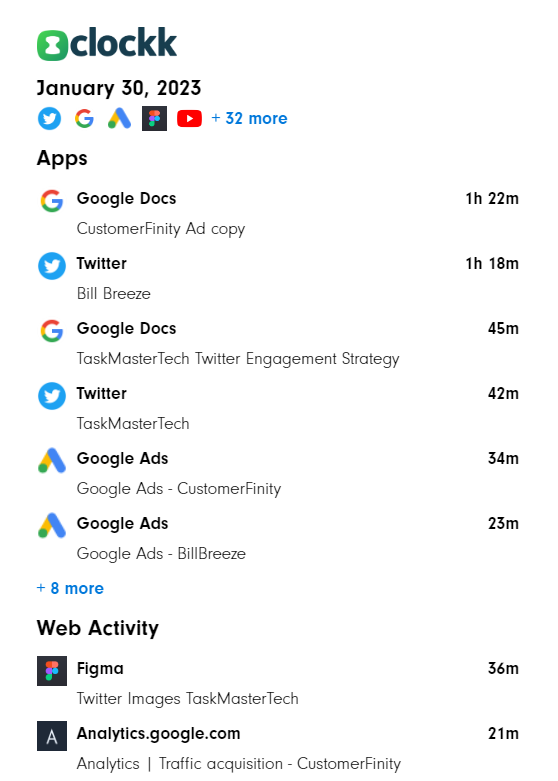 Reports - Toggl Track
View total tracked time and get a detailed view of each individual time entry.

Filter reports by date, client, project, tag, description, billable or non billable, task, and team.

Export reports so you can easily share with clients.

Set hourly rates for your projects and Toggl will calculate everything.

Set time estimates on projects to see how actual work compares.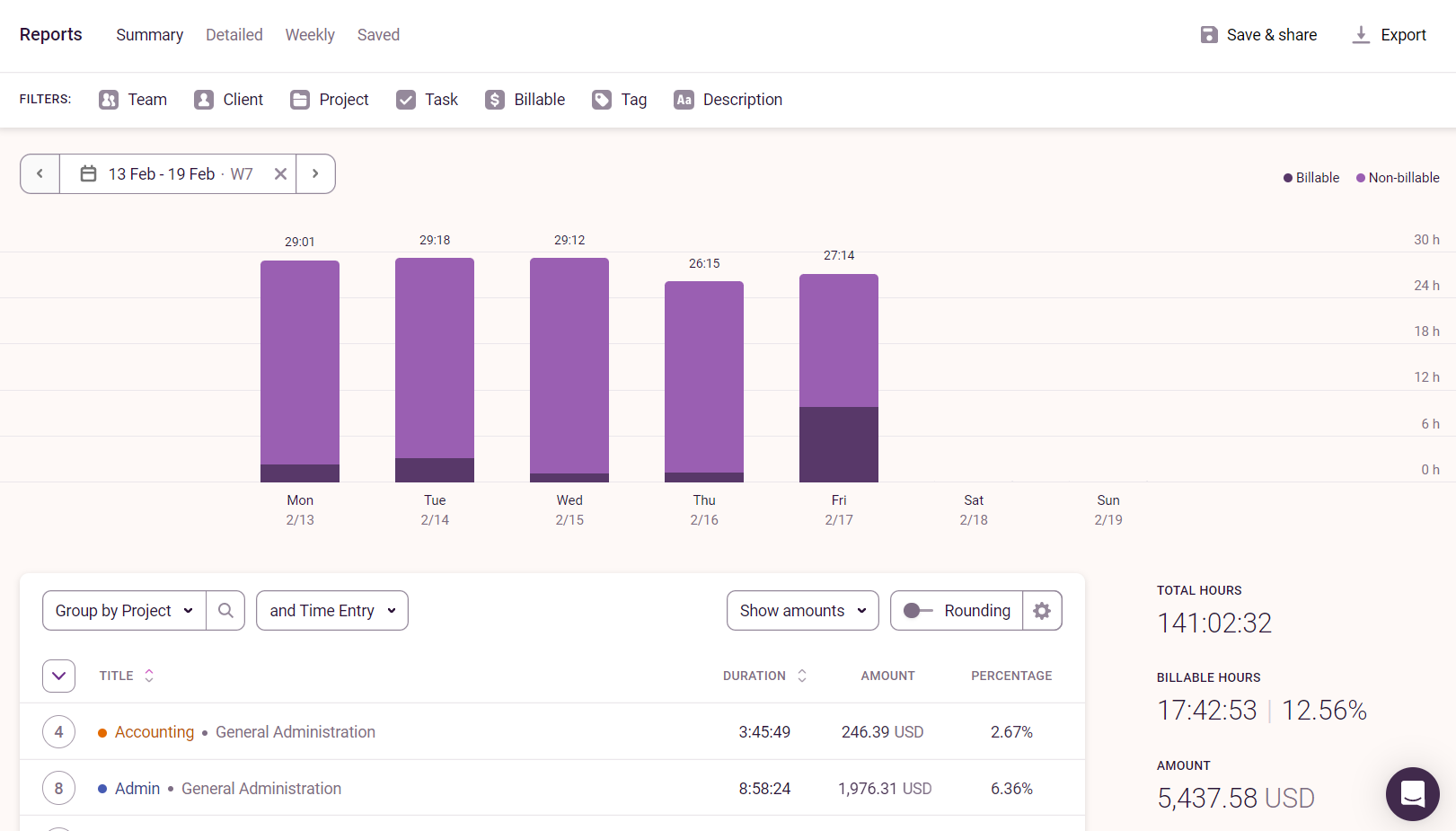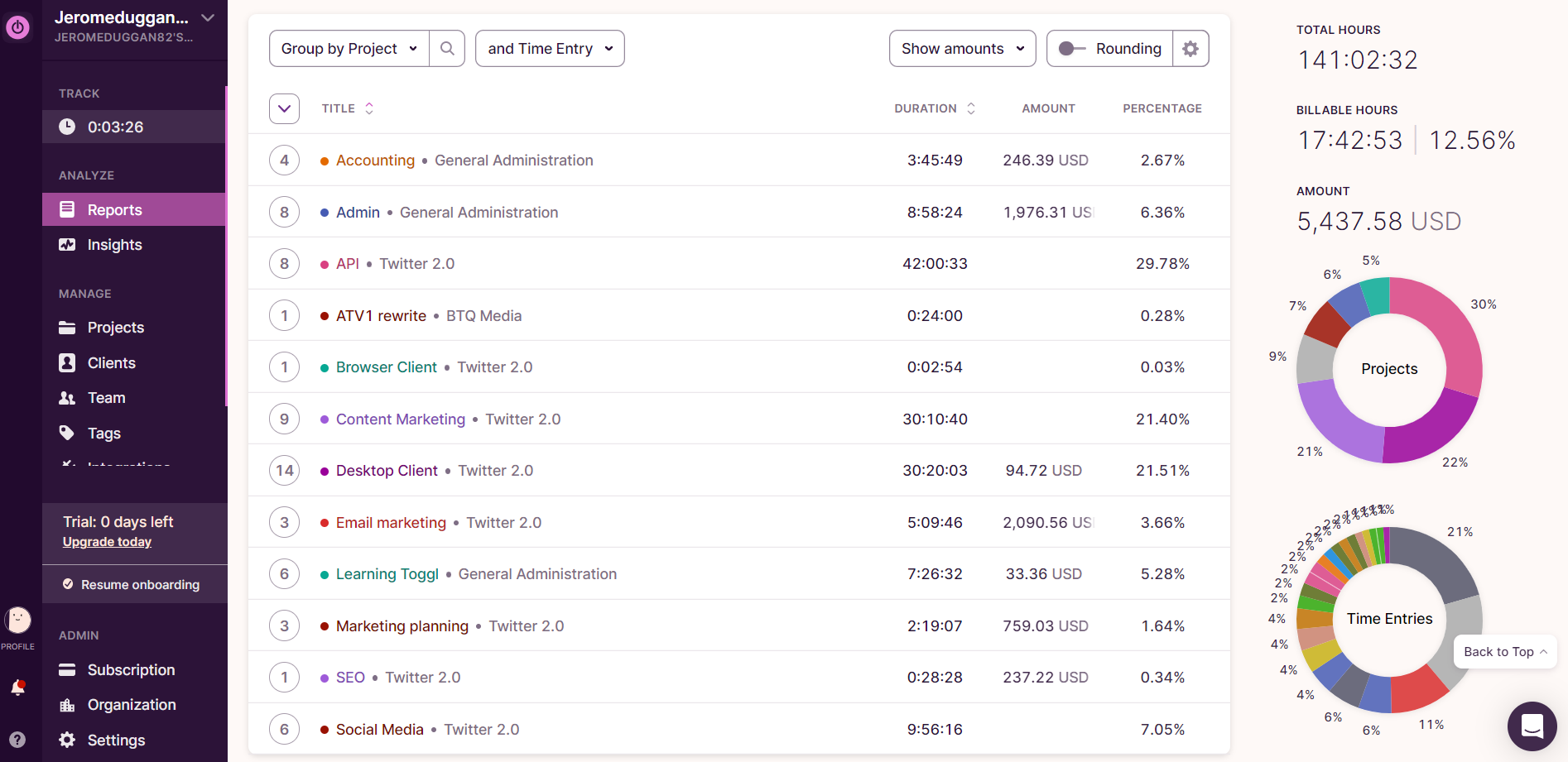 Reports - Clockk
View reports of tracked time that you can filter by any combination of day, team member, client, and project.

Know exactly how long it took to complete past projects.

Easily see which projects team members have worked on.

See which team members still need to submit their timesheets.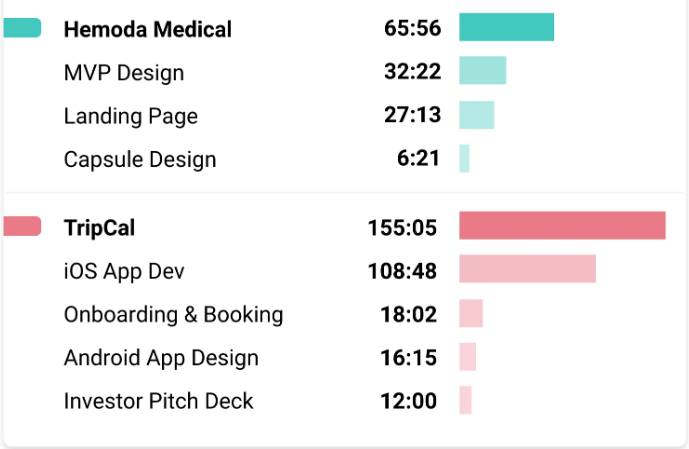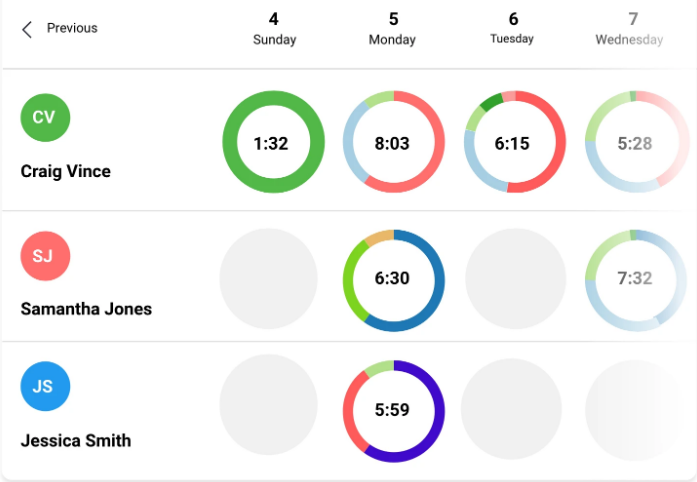 Toggl Track User Reviews
"Very user friendly - for both time tracking and reports in the admin side."
"I do not like that if I forget to change the timer with different tasks, the tracker is then not accurate - but always works well when workers are paying attention to different tasks in general."
"Toggl is super easy to use and helps me stay focused on the task at hand! I love being able to visualize where my time is being spent throughout the day."
"Generates easy to read, comprehensive reports for clients."
"One annoying feature is that you can't pause sessions; you have to stop it, and create a new one. You end up with a couple of 5 second sessions."
Clockk User Reviews
"I could end up working on several different client accounts within an hour. Clockk keeps tabs on what I do and is smart enough to identify what files, URLs, and slack channels belong to each client."
"The automatic time tracking is awesome, I move between many different projects throughout the day and not having to clock in and out is great."
"I have worked with tracking apps before, but they have never been as accurate, as I always forgot to press the start button or forgot to turn it off."
"Being able to automatically track the time I spend on different websites for different clients is unbelievably helpful."
"Clockk is easy to use, reliable, and well thought out. This tool is a life-saver and a time-saver!"
Ready to save time and find unbilled hours? Get Started